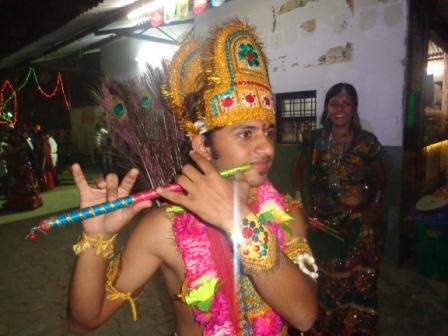 Nagpur Today Garba Mahotsav : Mohan Gandhe has organized a garba dance event at centre point college yesterday,16 October.Apart from the event there was also a dandiya Competition for the students of Centre point College and M.K.H. Sancheti. It was a huge crowd of Students  gathered there to perform in the Competition which made the event full of life. The competition started at 6.30 and the judges were Sangeeta Deshpande from Tirpude College , and Samyukta- the Professor of Nagpur University.
In first round there were 18 teams who took part in Garba competition followed by Sancheti's  staff  Vs Centre  point College staff. Last round was solo competition among students of MKH Sancheti & Centre Point College.
Rohit Virani and Hinal steals the show who was in Krishna & Radha avtar.
There was arrangement of amazing food too at the canteen, Mohan Gandhe encouraged the ex-cpc students to get on the floor.