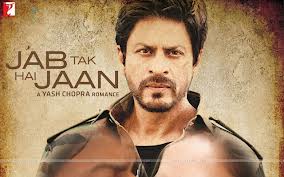 Directed by              Yash Chopra
Produced by            Aditya Chopra
Screenplay by         Devika Bhagat
Story by                     Aditya Chopra
Music by                    A.R. Rahman
Cinematography    Anil Mehta
Editing by                  Namrata Rao
Distributed by         Yash Raj Films
Release date             13.November 2012
Star Cast:                    Shah Rukh Khan, Katrina Kaif, Anushka Sharma, Anupam Kher, Neetu Kapoor, Rishi Kapoor.
Nagpur Today Movie Review: Jab Tak Hai Jaan is a 2012 Indian Romance film and features Shahrukh Khan, Katrina Kaif and Anushka Sharma in lead roles, making it the first film to pair Khan and Kaif and the second collaboration between Khan and Sharma after Rab Ne Bana Di Jodi. This one is for the romantics who can sit through Bollywood's version of eternal love, or the die-hard fans of Shahrukh Khan who believe that at 47, he can effortlessly and convincingly woo women half his age. For the rest of us, Jab Tak Hai Jaan has very little to offer.
Granted that the film tries to take a fresher look at love in the times of 'instant link ups and break ups' the lead pair sleeps together before tying the knot, a young woman admits that her generation has sex first and thinks about love later and a mother abandons her husband and teenage daughter to follow her heart.
But these moments are few and far in between, as we are mostly treated to old-fashioned filmy regression and melodrama – the rich girl cannot marry the poor boy because she doesn't have it in her to go against her father's wishes. The hero nurses a broken heart for years and all through this, he joins the army and learns to diffuse bombs. A decade later, when he is just about to run into the woman of his dreams, he gets hit by a car and loses his memory. Thus, the storyline meanders on and takes a really long time to come to the point.
Katrina looks pretty and rocks a dance number with her sexy moves. If only someone would give her acting lessons! Anushka plays the same girl she has played in all her previous films — bindaas, chirpy and over-the-top. Why can't filmmakers give this talented actor a hatke role to play?
In his army fatigues and well-toned body, King Khan looks dishy as the heart-broken hero whose lady love leaves him after making a deal with God! (Strange but true!) Shah Rukh even locks lips (for the very first time) with one of his leading ladies and there are a few bedroom scenes which are often missing from mainstream Hindi films.
If you must, watch Jab Tak Hai Jaan for Shah Rukh, who can still convey love and passion in a fleeting look or a dimpled smile; and for Yash Chopra who gave us some of the most enduring romances of all times.
Jab Tak Hai Jaan is worth a watch, and that's not just to pay your last respects to the legend Yash Chopra. It's a movie
that puts the mushy, filmy craziness back in love stories.
Our Ratings-

Suhani Vanjani