Inauguration of Induction Training of the 72nd Batch of Indian Revenue Service in NADT held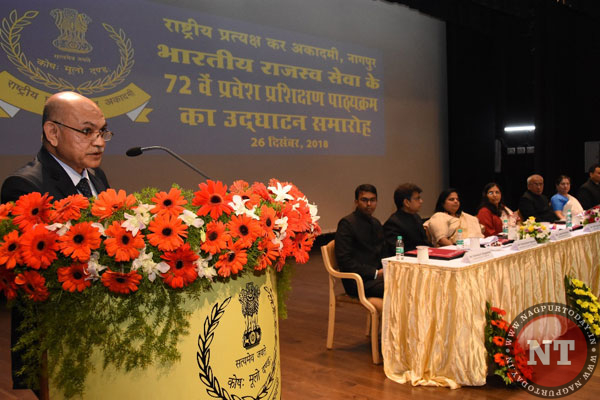 Nagpur: The inaugural ceremony of Induction Training for 72nd batch (2018 Batch) of Indian Revenue Service (IRS) officers was held at the National Academy of Direct Taxes (NADT), Nagpur, on Wednesday, December 26, 2018. P C Mody, Member, Central Board of Direct Taxes, New Delhi, was the chief guest on the occasion.
The batch consists of 173 Officer Trainees including two officers of the Revenue from the Royal Government of Bhutan a part of the Colombo Plan.
The chief guest Mody, in his address, welcomed the youngest members of IRS and invited them to join hands in nation building through the Income Tax Department. He advised the officer trainees to acquire core competence, dedication and integrity for effective discharge of their duties. His emphasis was on taxpayer services. He stated that the Department has ushered in an era of minimum government and maximum governance as regards taxpayer services. Mody He said that the various initiatives taken by Income Tax Department over the years viz. E-assessment, centralized processing of returns, computerization of refunds, e-filing, e-Nivaran etc. indicate that it is a pioneer in bringing in minimum interface between the Government and taxpayers.
The Member, Central Board of Direct Taxes, further stated that voluntary compliance draws from the basic assumption that the taxpayer is honest and is entrusted with the onus and responsibility of computing his own tax liability and paying it in time. However, voluntary compliance does not operate in vacuum and must be backed by credible deterrence. Thus, a tax administrator is often switching roles. He emphasized that the Officer Trainees should learn to find a balance between their twin responsibilities of taxpayer services and tax enforcement.
The chief guest expressed his belief that the Officer Trainees of the 72nd Batch will establish high standards of integrity and public service with the help of virtues like integrity, accountability, diligence, perseverance, discipline.
The programme concluded with the National Anthem.