It is a sin to divide Maharashtra & demand separate Vidarbha: Uddhav Thackeray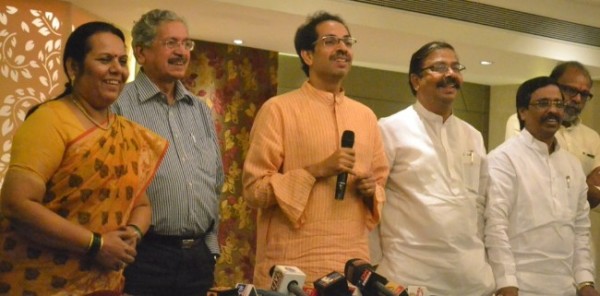 Nagpur News.
The Shiv Sena Chief Uddhav Thackeray who is on a two-day tour of Vidarbha met the press in the city on December 15, 2013. Looking at the scenario at the centre and with Bharatiya Janata Party (BJP) winning in 4 states, I am confident we will come to power said Shiv Sena Supremo Uddhav Thackeray. He said that he was present at the Oath taking ceremony of Chief Ministers of three states. The entire country seemed to have been safronized. He said that people are just waiting to overthrow Congress regime. With BJP winning in 4 states, the situation in Delhi is not very good. Had BJP got 1 or 2 more seats BJP would have certainly come to power. He vehemently added that the citizens of the country are so hassled and angered that they do not even want Congress party to be as the Opposition party. He said that when change is in the air, people always look for a stronger and more reliable alternative. He said that in a recent Industrialists meet, he attended; the industrialists opined that a strong leader to lead then is what is missing in the country. He also said that let BJP come to power; Shiv Sena will support Narendra Modi as Prime Ministerial candidate. People have expressed their confidence in us. Generation after generation, people have seen Congress party and have finally got fed-up with their rule; he said that there is a Modi wave going on in the country.
Answering to another question on Lokpal Bill, he said that Shiv Sena has been and is opposing Lokpal Bill. He said that India has pillars of Democracy: Executive, Legislature, and Judiciary are already functioning. Why do you need another pillar? How many extra pillars do we need? What we should do is to strengthen the existing pillars of Democracy. He asked what if Lokpal Bill fails or the people administrating Lokpal misbehave, will we have to establish another body to regulate them then?
While answering to a question on the Anti-superstitions Bill, he said that Shiv Sena will accept the Bill only with some more amendments. He said that my Grandfather was a person who opposed superstitious beliefs strongly and has been a champion in opposing them tooth and nail. We as Shiv Sena have always opposed "Jadu-Tona and "Aghori Vidhya". However we are people who believe in God. There are already punishments for those practicing "Aghori Vidhya". He quoted about the incident in Nashik where a woman was killed for Black magic (Nar-Bali). He said that unlike other religion, Hindus do not propagate their religion. I have come to know of some people who have taken advantage of the situation (poverty) of poor people and have asked them to get converted into other religion by offering some benefits. However he assured that once they come to power, they will change the present bill. He said that BJP has not opposed the Bill as aggressively as Shiv Sena. All he said that the Bill should not misused by some people with ulterior motives.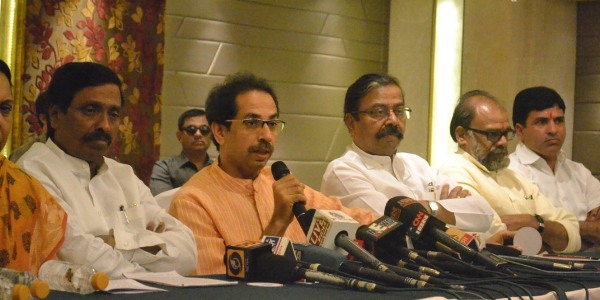 He said that an atmosphere of remove Congress is on the air now. When asked why no change or development has occurred in Vidarbha, he vehemently said that once they come to power, the entire Maharashtra will change. To a question on what is his stand on separate Vidarbha, he said that Shiv Sena has and never will support a separate Vidarbha. He asked, what will happen if everyone starts asking for a separate state? He said that the boat of Congress party is sinking. Please don't raise the issue of a separate Vidarbha for it is a sin. He asked the media personnel present there, haven't BJP ministers worked for the development of Vidarbha? Haven't Nitin Gadkari worked for development of Vidarbha?
If these Congress leaders or the other ministers who are demanding a separate state from time-immemorial (from Indira Gandhi's time), I have not seen even one minister who went and threw his resignation and said that I want a separate Vidarbha, he said. He added that once we come to power, we will look after the entire Maharashtra, including Vidarbha.
He claimed that they will certainly win from Ramtek.
While answering about a query on Section 377, he said that there are many more pressing issue that the government should be concerned with like the farmers committing suicide etc. Utter shamelessness is going on in the country.
About the compensation for flash floods in many parts of Konkan, Maratwad and Vidarbha, he said that the Government has no sensitivity remaining.