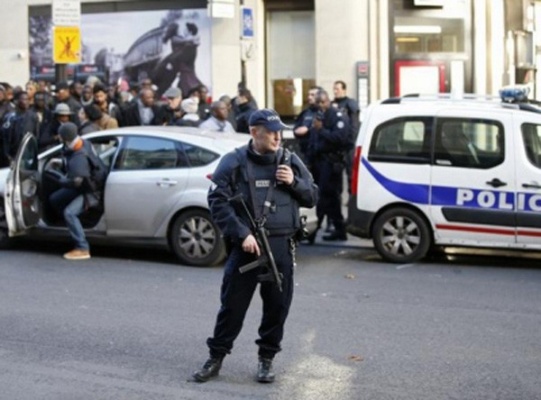 Paris: There are two victims in a hostage-taking at a supermarket in Trebes, in southern France, the mayor of the town said on Friday (March 23) as La Depeche du midi newspaper reported one person was dead.
The condition of the two victims was not immediately known.
"We unfortunately presume one person has been killed, but we cannot bring a doctor on site to check," Jean-Valery Lettermann, the regional police chief, said of the attack.
Mayor Eric Ménassi told BFM TV that the hostage-taker was now alone with one police officer in the supermarket and all other hostages had been freed.
Prime Minister Edouard Philippe described the situation, which investigators are treating as terrorism, as "very serious" and Interior Minister Gerard Collomb is heading to the site, his ministry said.
The hostage-taker at the supermarket has claimed allegiance to the Islamic State in Iraq and Syria (ISIS) terror group.
The UNSA police union also said on Twitter a police operation was underway after an individual had earlier shot at four officers in the Carcassone region, injuring one of them.
A source at the Paris prosecutor's office said counter-terrorism prosecutors were investigating the hostage-taking.
The man "entered the Super U supermarket at around 11.15am and shots were heard", a source said of the Trebes incident.
Local authorities tweeted that the area was out-of-bounds to the public.
It was not clear whether the two incidents were linked.
If the link to ISIS is confirmed, the attack would be the first major incident since the election of centrist President Emmanuel Macron in May last year.
The shootings come with France still on high alert after a string of Islamist attacks since 2015, starting in January that year with the assault on satirical magazine Charlie Hebdo that left 12 people dead.
France also suffered major attacks in Paris in November 2015, when ISIS terrorists killed 130 people at bars, restaurants, the Bataclan concert venue and the national stadium.
In July 2016, in another attack claimed by ISIS, a man drove a truck through revellers celebrating Bastille Day, killing 84 people.
A state of emergency put in place just after the Paris attacks was finally lifted in October last year, but soldiers continue to patrol major tourist sites and transport hubs under an anti-terror mission.