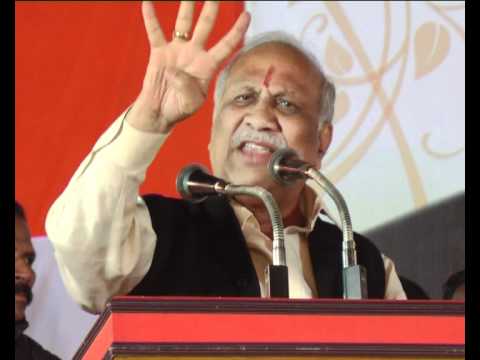 Nagpur News: Nagpur- based Parliamentarian, former Minister and senior member of the All India Congress Committee Vilas Muttemwar closely missed being a member of the Cabinet of Ministers under the Manmohan Singh Cabinet. He was nearly confirmed a ministerial position during the formation of the UPA-2 government, but that was denied him at the last minute as well. Now, speculations about the person responsible for his constant losses have been doing the rounds.
This is the fifth time that Muttemwar, a seven- time Parliamentarian, is representing Nagpur in the Lok Sabha. He has been a Minister of State in the Narasimha Rao cabinet, as well as in UPA- 1. He is the first Parliamentarian from Vidarbha to have been elected to the Lok Sabha seven times. Muttemwar is essentially an experienced politician, who has been defeating political rivals from his constituency easily and consistently. His victories and losses after having reached Parliament, however, are a different issue.
Muttemwar will be pitched against Nitin Gadkari in the upcoming general elections for the Lok Sabha in 2014. There is no Congress person in the region more able than Muttemwar to compete against the BJP President, a fact the Congress high command is well aware of.
Muttemwar's name was reportedly one of the foremost for the recent Cabinet reshuffle of the Manmohan Singh cabinet. Datta Meghe from Wardha was also in the running, and there were constant speculations from Delhi to Vidarbha about the berths that the two will be given. The thought of two Cabinet members from Vidarbha had the regional political circles excited. So sure was every one of Muttemwar and Meghe being inducted into the Union Cabinet that even banners and hoardings were ready. But the Prime Minister never called.
The question that has arisen now is who is the person behind the constant snubbing of Vilas Muttemwar at the Centre? The resignation of Mukul Wasnik was widely considered as an incident that strengthened Muttewar's position, yet he was denied the much- anticipated induction.
According to fresh discussions and gossip, Anees Ahmed and Avinash Pande from Nagpur are also in the running for senior positions in the All India Congress Committee. Ahmed is very close to the Sonia and Rahul Gandhi, and is often seen standing behind Rahul Gandhi at public events. There is reportedly no love lost between Muttemwar and Ahmed. Is it possible that Anees Ahmed is behind Muttemwar's recent disappointments?
When Nagpur Today discussed the topic with legislator Dinanath Padole, he said that decision of appointing ministers and allotting positions rests with the Prime Minister and the Congress chief, and that the two cannot be swayed by the personal opinions of other ministers. The Indian National Congress is a vast party and there are bound to be clashes of opinion, but internal and personal politics are not practiced by anyone.