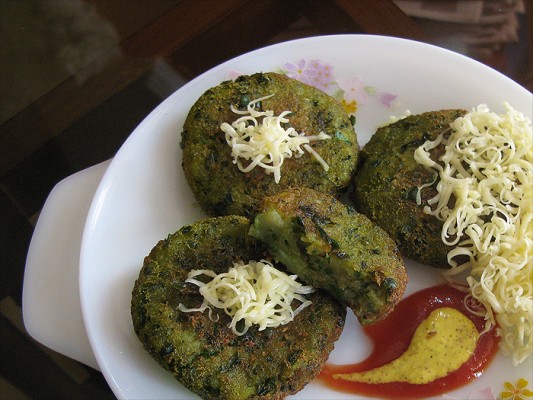 Hariyalli Tikki or kebab is a nutritious, tempting snack. It is a tasty alternative for those who love kebabs but are vegetarian. It is a healthy vegetarian version of kebabs with a tasty blend of ingredients. Hariyalli Tikki or hara bhara kebab gets its name and green color from the healthy spinach in it. They are served as a snack or appetizer. 
Ingredients:
4    Medium potatoes – boiled
¾   Cup green peas – shelled and boiled
¾   Cup spinach – boiled
½   Cup of coriander leaves – chopped
1    Tablespoon fresh ginger- fine grated
1    Medium green chili- fine chopped
4   Tablespoons corn flour
1   Teaspoon salt or to your taste

Directions:
1.   Once you boil the potatoes let them sit until they cool down then peel them.
2.   Grate the boiled potatoes and squeezed the water out from the boiled spinach.
3.   With a fork mash the green peas a little.
4.   In a bowl add grated potatoes, boiled green peas and boiled spinach and mix
them together.
5.   Mix in grated ginger, chopped green chilies, chopped coriander leaves and salt.
6.   Add and mix corn flour to the potatoes for binding.
7.  Divide the mixture into 20 to 25 equal portions or according to the size you
preferred to make the tikki or kebab.
8.  Grease your hand and take a portion at a time and roll it into a ball then press it in
between your palms to give it a flat tikki shape or kebab shape, keep it aside on a
plate. Repeat this process until  all the tikkis and kebabs are made.
Directions for frying the tikki (or kebab):
1. Heat 2 to 3 cups of oil in frying pan or a kadhi, for 5 to 6 minutes keep the heat to high then turn it to medium high, so that oil heats up quickly, in 7 to 8 minutes oil will heat up then turn the heat down to medium. The correct temperature is important.
2. To test the oil to see if it is ready, drop a little piece of potato mix, if it rises immediately to the surface and sizzles, the temperature is correct, if it get brown quickly it means it is too hot then turn the heat down, if it is sink to bottom and do not simmer it means it is not hot enough, and the tikkis will absorb too much oil and remain greasy, Adjust the heat accordingly.
3. Now take 5 to 6 potatoes tikkis and one after another gently drop them into hot oil.
4. Let them fry for 1 minute then with the pierced spatula turn the tikkis around and let them fry, after 1 minute turn them back again. With the spatula keep flipping the tikkis upside down for 4 to 5 minutes or until they become crisp. Keep the heat to medium high.
5. Once tikkis become crisp with the pierced spatula take them out from the oil and place them on the plate over paper towel so that excess oil is absorbed. Turn the heat down.
6.  Drop another batch of tikkis in the oil, and then raise the heat up to medium high. Repeat the process until all the tikkis are made.
7. Serve tikkis hot with coriander chutney  or tomato ketchup.
Tips:
1. You may also shallow fry Hariyalli tikki or Hara bhara kebab on a cast iron griddle or non stick frying pan. Heat the oil in a griddle or frying pan and place 4 to 5 tikkis or kebabs at a time on the griddle and shallow fry them till crisp on each side.
2.  After boiling the potatoes leave them for a while then peel them, that way they leave the starch and they do not split in pieces when frying them.
3. Do not use green color in the tikkis to make it look green. If you wish you may increase the quantity of spinach to give a dark green color. In that case add a little more corn flour for binding.
4. If you wish you can add paneer or any other ingredients in the tikkis.