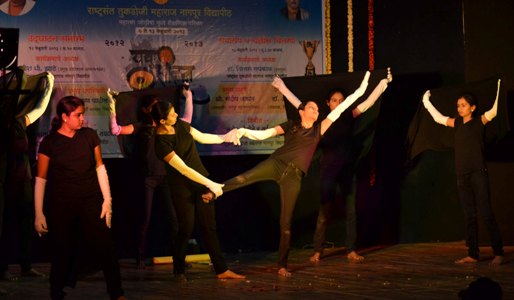 Nagpur News:
Extravagant dance performances, singing, debate and photography competition marked the grand Opening of the Yuva-Spandan 2013 Cultural fest at the Campus of Rashtrasant Tukadoji Maharaj Nagpur   University.on Tuesday. The programme was inaugurated by Adv, Dr.Vasant Khaparde. Dr.Arun Patil was the Chief guest of the programme.
Dr.Khaparde and Dr Arun Patil in their speech guided the students humorously with valuable lessons.
The programme started with debate competition. The topic of the debate was 'Inter- religious marriage essential for annihilation of Casteism'. Intense and interesting views were put forth in favour of and against by the participants. Most of the participants spoke in favour of inter-religious marriage.
Ashish Ramteke,P.G student said, "God made Man and Women not Caste inter-religious marriage is good for National Unity."
Seasoned debate contestant Devesh Gondane in favour said, "inter-religious marriage is the need of the hour for eradicating casteism.
Neha Joshi speaking against said, "inter-religious marriage is not the solution, people should come forward socially and abolish casteism."
Hitesh Dorlikar too agreed with Neha and said it is not the solution.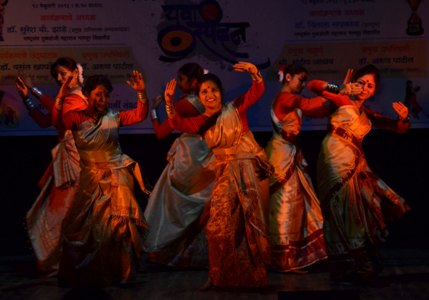 The Jam packed hall with students had a dancing treat in waiting with starting with  Lavani performance enchanting the audience. Traditional Assamese dance was beautiful performed by the students. Group dance performances like indo-western, folk-dances and marathi dancing numbers made audience stand up wanting for more.
Apart from these the recent Delhi rape scenario was depicted in dance form and message for respect for women and women- empowerment was conveyed by the Girls troupe.
Singing and Photography competitions were also held. Student Photographer's covered the whole event and performances and took beautiful pictures of the event . Aspiring and talented Student Photographer's, Pratik Barsagade and Sneha Vyas who took wonderful photograph's of the event said, " It was a very nice experience clicking photos of our fellow college-mates, it was challenging task but it was worth it cause it gave us a platform to showcase our work."
Student council secretary, Santosh m. Sonone and his team worked hard for the success of the event.