Kotler`s Junction inaugurated at GHIMR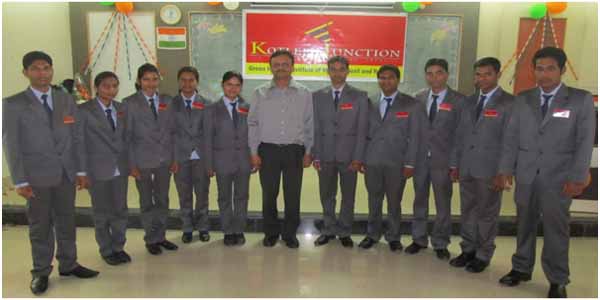 Nagpur News : Kotler`s junction a marketing club was inaugurated by Mr. Sanjay Arora Managing Director of Shell advertising inc. On 9th Feb., 2013 at Green Heaven Institute of Management of Research formerly known as Orange City Institute of Higher Education. Mr. Sanjay Arora appreciated the efforts of the students and lauded their creativity. On this occasion a ten member students executive committee of Kotler`s junction comprising of Jitendra Rahangdale, Ankush Shukla, Shashi Urkude, Deepak Choudhari, Manohar Pillewan, Santosh Bahe, Kuntal Raut, Chaitali Tijare, Archana Joshi and Shital Tannewar was installed.
Pranali Sarode compeered the proceedings and Deepak Choudhari proposed the vote of thanks. Also present on the occasion were Anil Sharma, Secretary JDBJS, Mr. Umesh Sharma Vice President of JDBJS, Dr. Raju Ganesh Sunder, Director GHIMR and all faculty members of GHIMR. Prof. Makrand Joshi, the faculty in charge took special efforts for the success of the programme. The Kotler`s Junction is formed with an objective to developing a passion for marketing as a discipline among the students of MBA and empowering them to choose marketing as a possible career choice.