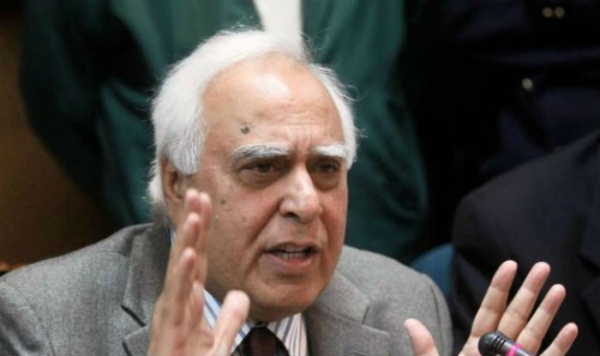 New Delhi: The Bharatiya Janata Party on Thursday alleged that senior Congress leader Kapil Sibal and his wife are involved in a land scam.
According to a media report, the duo acquired a piece of land valued at Rs 89 crore in New Delhi municipal area by paying much less amount for acquiring the holding company, when Sibal was the Union law minister during the tenure of the United Progressive Alliance government.
Addressing a press conference, Union minister Smriti Irani said that Sibal had a business deal with a person who was accused of money laundering.
"The person who was being probed by the Central Bureau of Investigation for bribery during the UPA government and against whom South African journalists levelled charges of money laundering, from him Kapil Sibal and his wife got ownership of a company named Grande Castello Private Limited," Irani told media, quoting the report.
Irani added, "Is it so natural for the Congress leadership today to embrace money launderer, to shake hand with those that they had investigated for bribery?"
The media report said that Sibal and his wife allegedly bought 100 per cent shares –50 per cent each — in a company that had a paid-up capital of Rs one lakh.
'The company, Grande Castello Private Limited, owns the land in Delhi that was cost at Rs 89 crore in the books of the company before the acquisition,' the report quoted.
Reacting to Irani's allegations, Sibal said, "A person who does not know the meaning of money laundering is making allegations? Yes I bought the company, does anyone mind? I paid and did so from my earnings, tax for which was paid by me, but no one saw it."
"We thought she'll talk about the CBSE paper leak but it seems she isn't worried about the students who'll have to re-appear for their exam," Sibal said.