Nagpur: Atul Goel, MD, Goel Ganga Group, Pune, one of the leading private sector companies with dominance in Construction of Residential, Commercial and Hotel projects in PUNE, MUMBAI, NAGPUR and BANGALORE, delivered a talk on "Nagpur –The emerging Retail capital"at VIA Hall, this evening, in a programme organized by Marketing Forum..
Speaking on the subject, Goel went on to explain, what is GST and its effect on retail sector. He said that Goods and Services Tax is the biggest economic reform ever attempted by any Indian Government and mentioned that it shall accelerate economy by 0.9 to 1.7 percent. He further highlighted that Introduction of GST shall create a common market with Nagpur as its centre, like Brussels is for the EU.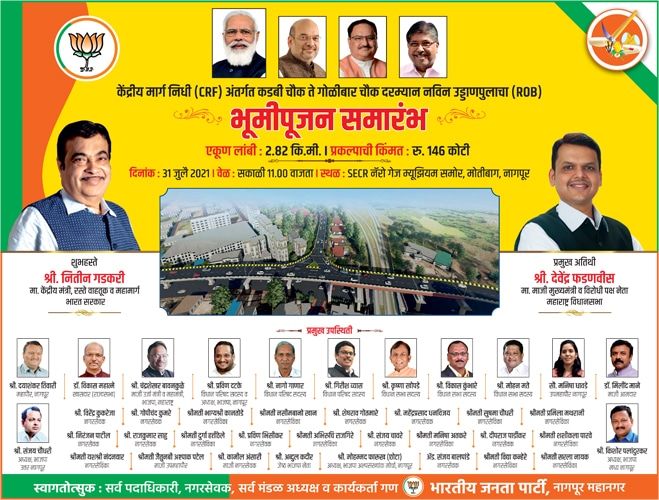 Post GST, he said that Pricing for manufacturers, wholesalers, and retailers will be lowest if they centralize warehousing in Nagpur. Hence GST may change the future of Nagpur by making it a lowest cost-to-end-user destination because of its central location.
Goel further explained about wealth creation and suggested the mantra for wealth creation. He said that Real estate is sure shot route to wealth. He stressed that Real Estate is called "Real" because it is the only form of wealth that cannot vanish, crash, or be stolen and said that it is the only option to genuinely defeat inflation and grow one's net worth. Goel shared research done by their Group regarding the reasons behind the successes and failures of malls and other formats in the Nagpur market. The research showed that markets like Buldi and Sadar are facing regular decline in business by losing out to malls that provide better parking and infrastructure facilities. To resolve this problem, Glocal Square shall provide solution to all the above said problems.
He then shared with the audience present about Goel Ganga's upcoming Glocal Square that shall be in the heart of the CITY in Sitabuldi and shall also be India's largest market redevelopment project .He ensured that with such anticipated changes no one could stop Nagpur to emerge as the Retail Capital.
At the outset, Shikha Khare, Convener- Marketing Forum gave opening remarks and introduced the speakers. Floral welcome of Atul Goel was done by Akash Agrawal, Chairperson-VIA Marketing Forum. The talk was highlighted by Sanjay Arora, Advisor- VIA Marketing Forum. Summing up and vote of thanks was proposed by Sanjay Arora, Advisor – VIA Marketing Forum. This talk was attended by large number of audience which included Young Entrepreneurs', Businessman, Students, Industrialists, prominent VIA Members and others.