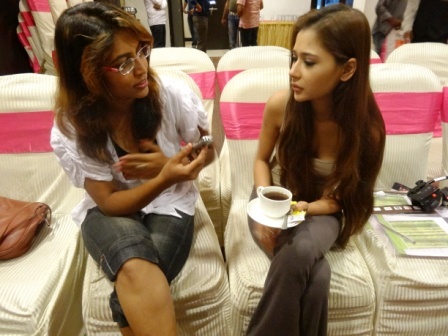 Sara Khan is an Indian model and actress. She won the Miss Madhya Pradesh title in 2007, the Best New Talent award given by IndianTelevision.com in 2008, and the STAR Parivaar Award for the Favorite Naya Sadasya and Best Patni category in 2009. Nagpur Today team had interaction with Sara khan at Hotel Ashoka.
Suhani: Tell me some thing about yourself
Sara Khan: Hi! I am Sara Khan. Basically, I belong to Bhopal (MP) But now I am a Mumbaikar.
Suhani: How did you get your first take and when?
Sara Khan: Firstly I wanted to tell you that I entered in this industry when I was just 15 years old and I got my First opportunity at my home. I never Struggle for this .It was really a fairy tale for me and trust me it was a "Dream cum True" Point of my life. I got a Contract at my home place and I signed it and it was something which I never had expected.
Suhani: Who had given you the first take of your life?
Sara Khan: It's Rajan shahi, Producer of the "Bidaaii" had given me the first chance to enter into the Industry. From that point my journey is still on.
Suhani: Tell us something about your experience in "Bidaai"
Sara Khan: I will just say that still I am experiencing it so I ll never talk about my experience. it's a never ending experience of my life , because once you enter in industry then you have to keep moving ahead but if I really need to say about it so I am Enjoying it.
Suhani: Who, among your co-workers, do you like to work with the most?
Sara Khan: Hmm! it's Angad who was there in Bidaai, He is my best friend till today, I can say he is the best person to work with. And recently, I worked with Ashmit and I must say he is a nice human being. He is so helping, fun loving and caring person. I love to work with him.
Suhani: Where do you see in another 5 years?
Sara Khan: Honestly I don't know, because we can't predict "Tomorrow" in  this industry but yes I never dreamed off what I am doing today so I am sure I should be doing something very interesting which I am not dreaming off.
Suhani: What is your dream role?
Sara Khan: Honestly I always wanted to do one role that is "Mona" which I have done in "Ram Milaye Jodi" .I always wanted to do something like that I am proud of myself that I did that. I had a amazing experience while Shouting , Dancing , Abusing and all things which I love to do.
Suhani: Being a televison actor what are the bad parts and good parts of being into this industry.
Sara Khan: According to me, In every  feild there is something good and something bad and if you are selecting your choice by your own then you have to accept both parts in the same manner either its good or bad. And on other side I must say I m not that big to comment on television merits and demerits. I am no one to do this because these people made me today whatever I am and actually I cant find anything bad in this.
Suhani: Tel us what do you feel about the small town talent ,Does they have that much of scope in bollywood.
Sara Khan: Yes I do believe because I am from small town and I am doing best in this industry. I  am doing many serials and even I had signed so many movies. I cant talk about that it will be out with time . So I think there is god scope for small town talent as well.
Suhani: According to you. What is more important,  in this industry, Talent or Jack?
Sara Khan: No! Most important thing is you should have "Luck". I think 80 % is your luck and remaining 20 % is about your talent, jack and hardwork.
Suhani: How supportive is your family?
Sara Khan: They are very much supportive and Without their support I am nothing.
Suhani: Who inspired you lot?
Sara Khan: Its my "Maternal Grand Father-Nana" who inspired me a lot . its like when I started my career I was facing some issues and it was only ma nana who had a trust on me and faith that I would do something good and supports me a lot and given me the confidence of being stand and fight.
Suhani: Do you have any message for your fans and friends?
Sara Khan: I would like to request all of my friends and fans that I m coming up with a serial on Channel V and I m playing role of Sara Khan .it is Mini Big Boss sort of show. I must say it is a very nice concept and people would love watching this. I wish my all fans would watch it and enjoy. Finally thanks a lot for being with me .Love you all.
By Suhani Vanjani