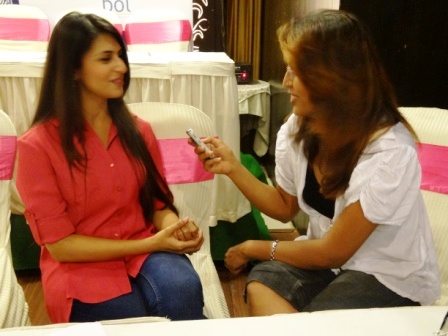 Nagpur News:  Divyanka Tripathi is an Indian Television actress from Bhopal.Her father is a pharmacist. Divyanka started her career as a model. She was the winner of the 2005 Miss Bhopal contest.She participated in Zee's Teen Contest and won the Miss Beautiful Skin title.She wanted to be an army officer.She completed a mountaineering course from the Nehru Institute of Mountaineering in Uttarkashi. She holds a gold medal in rifle shooting and is the executive officer of the rifle academy in Bhopal. She participated in Zee Cinestar Ki Khoj a talent hunt show on Zee TV and was declared a winner from the Kolkata zone. Divyanka started her acting career with the serial Banoo Mein Teri Dulhaan on Zee TV. She has worked as an anchor for Akashwani Bhopal and has also acted in several other serials .In March 2011, Divyanka became an Ambassador for the non commercial Global Initiative "CyberDodo the Defender of Life" dedicated to the Rights of the Child and the Environment.
Nagpur Today interviewed Divyanka  in Hotel Ashoka:
Suhani: Tell me something about yourself, your studies and family.
Divyanka Tripathi: I am from Bhopal. I have done school and college from Bhopal itself. After that i moved to Mumbai. I got a call for the role of 'vidya' in 'Banu Mai Teri Dulhan'. They saw my telly film in Durdarshan which gave in the idea of me being suitable for that role. That is how i moved from Bhopal to Mumbai. Otherwise i am a very down to earth and kind of connected person. I am homely, outgoing, and adventurous. What I am not is show-shining, glamorous. So i thought, I will give it a try and will return to Bhopal within 6 months. But Mumbai is the city which doesn't allow it. So this field being far away from me i have spend 6 lovely years of my life.
Suhani : Do you think there is space for small town talent in Mumbai?
Divyanka Tripathi: Of course, the audience likes to see new faces and like people who are from small towns. They are able to connect to the small town people. And Mumbai caters that. Mumbai is a combination of all kind of talent, the glamorous people as well as small town talent. It all depends on the demand of the audience.
Suhani: Where do you see yourself five years from now?
Divyanka Tripathi: I don't think  I will see myself in TV serials. Actually I have been versatile, I have not repeated even a single role – 'Dulhan' was drama, then 'Mrs Sharma' which was a comedy, in 'Chintu Chinky' was a girl next door kind of role, then in 'Teri meri love story' with Iqbal khan it was very westernised and then I had even done a role of ghost. So I don't want to repeat any of my roles. May be I will may an attempt in the movies.
Suhani : Which is your favorite role of all?
Divyanka Tripathi: My favourite was Mrs. Sharma, because she was fun loving and entertaining. I was enjoying it a lot as I was not having any restrictions in the role. it was a fun loving character of mine.
Suhani: What is your dream role?
Divyanka Tripathi: My dream role is Mother India.
Suhani: How has your experience been in the film industry?
Divyanka Tripathi: In my experience of six years , I feel this industry is a school where you tend to learn new things every day. So I don't know when I will clear my exams but I feel I am still a student and this industry is my school.I always try to learn more and more and to grasp the things which will be helpful for me in my future.
Suhani: What are the good and bad parts of being in the film industry?
Divyanka Tripathi: You cannot live your life openly, because of your profession . Your personal life always get affected due to this, which is a big drawback of the media. And secondly this is one place where no one is successful because when one movie or one shoot is over the struggle for the next work starts to maintain that position. And good points are a lot, my favourite is when I smile for others and get it back. Ii feels great with my fans love.
Suhani: Tell us something about your real life and reel life.
Divyanka Tripathi: I am very reserved person in real life. On screen and off screen Divyanka is very different, I don't know how to crack jokes in real life but on screen I do crack jokes. Our real life is more complicated than the real life.i enjoyed each and every part of my life.
Suhani: How does your family support you?
Divyanka Tripathi: My family is very supportive towards me. Infact, when I had come down to Mumbai initially, they were with me to support me. They have always supported me, encouraged me and helped in making correcting decisions. And both my mother and father inspire me a lot in this journey.
Suhani : Do yo have any message for the people who are struggling to enter into this industry?
Divyanka Tripathi: Take professional training before entering into the industry. One should not just come to city to and struggle. Always come after doing your home work well, find out about the people through whom you will enter. Send proper portfolio photographs and resume. And the biggest tip to sustain in this industry is patience
Suhani: What is more important – beauty, talent or sources?
Divyanka Tripathi: Talent. Because Beauty would get you some movies, some work; sources can also get you two to three projects; but without talent both will go waste.
Suhani: Do you have any message for your lovely fans?
Divyanka Tripathi: Whatever I am doing, it's for my fans. I hope they like my work and are loving me.
By Suhani Vanjani