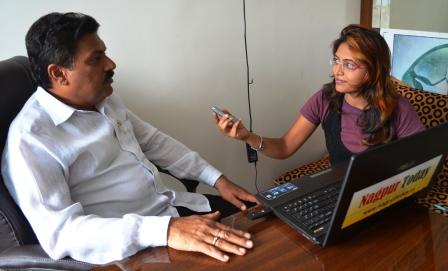 Nagpur Today Interviewed Suresh Jagyasi:
Suresh Jagyasi, a socialist and a member of the Congress for the past 32 years, has been an advocate for serving the society from the beginning of his political career.  With a vision and the passion to bring his dream into reality, he is all set to change the face of Jaripatka .Jaripatka has been one of the neglected areas of Nagpur city for the past few decades. But with his efforts, big changes are about to happen soon for the people of Jaripatka.
It has been only 7 months since his induction into the Standing Committee, but he has already proved his capabilities of being a strong leader. There was a major problem of water shortage in the area. Despite an efficient canal system, the people were troubled with lack of water and the only resort was calling water tankers every few days for their necessities. But this issue was sorted out by Mr Jagyasi within 2 months of joining the post. On his agenda for improvement of the area, is refurbishment of the vegetable market for which already 55 Lakhs have been allocated by the government.  With the help of Maharashtra state cabinet minister Shri Nitin Raut and the funds provided by him, Mr Jagyasi has started the work for modernization of Jaripatka. Plans to build up a mall and two parking areas are already in pipeline. Right now he is working on finishing up the backlogs like restarting the work left off by the Unity Info Tech midway. Unity Info Tech was supposed to build 22 roads in the area, but hasn't even finished one till date.
All for Serving the society and working towards the welfare of people, Suresh Jagyasi feels the only disadvantage of being a politician is the time spent away from their families. But adds since the amount of time all spend working together and towards the same goal, he feels his team is like a new family to him. Despite the fact that everyone in the office is handling their own department office is headed by Shri Laxman Thawani and others are there to help him out. His advice for new generation is to look at politics as an opportunity to serve and help people. Have a vision and work towards making that a reality.  This is the only way to improve the community and the image of politics.
His view about Nagpur, the city he loves, is that Nagpur is safest city in the country. We are situated in the heart of the country and now all the communities try and work on difficult situations together which is a very good thing, an example of which was noticed during the Ram-Mandir conflict. I hope it stays as beautiful and at peace always. Jai hind!
By Suhani Vanjani