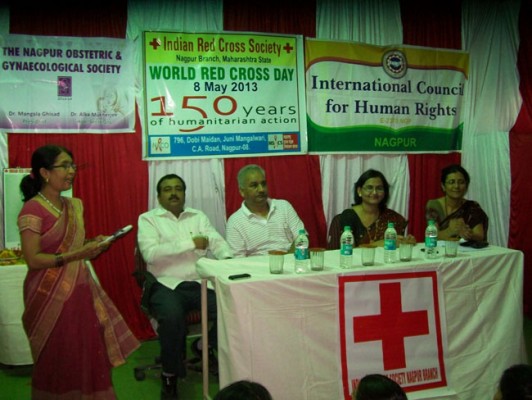 Nagpur News: The May 8 being the International Red Cross Day, the day was marked by a function held at Nagpur branch Indian Red Cross Society's hall at Mangalwari with the participation of Indian Red Cross Society itself, Nagpur branch of Indian Council of Human Rights and the Nagpur Obstetrics and Gynaecology Society (NOGS). An exhibition of different Indian Red Cross Society's programmes was put up on the occasion. The programme began with garlanding photo of Founder of International Red Cross Jean Henry Dunant.
At the outset, Nagpur branch Indian Red Cross Society's Secretary R P Singh informed about the various programmes organized by the Nagpur branch of the Society. After that during discussion on medical aspects, the NOGS President Dr Mangala Ghisal and Secretary Dr Alka Mukherjee  informed about  various gynaecological diseases with minute details and by answering satisfactorily the questions posed by women audience provided proper guidance to deal with gynaecological diseases.
Vote of thanks was proposed by Nagpur branch Indian Red Cross Society's Joint Secretary Arup Mukherjee. Hemlata Lohve, Mangala Kadve, Alka Mankar, Padma Shri Dantalwar, Sunita Jangdekar, Pawan Aate, Madhuri Ramteke, Rekha Gaidhane, Pranali Kamble, Manish Jumgaonkar, Pranali Labhe, Satish Godbole, Satish Nikose, Chandrashekar, Veronica Mandhre, Celin Bhingardive, Rohini Darlinge, Kavita Rangari, Vinod Umredkar, and others worked hard to make the function a grand success.