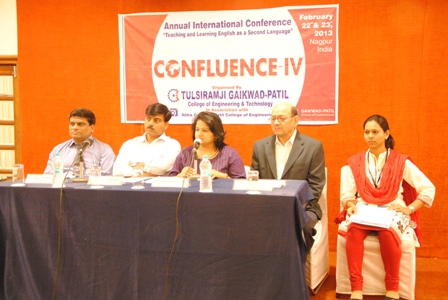 Tulsiramji Gaikwad Patil college of Engineering& Technology, in association with Abha  Gaikwad college of Engineering is organizing its 4th   Annual International Conference on teaching and learning English as a second language(ESL) at its Campus on wardha road from 22nd to 23rd  February -2013. Dr Ravi Dani ,Vice Chancellor, Punjabrao Krishi Vidhyapeeth ,Akola  will inaugurate the conference on 22nd Feb at 10am.
While speaking with 'NagpurToday' Prof. Anjali Patil Gaikwad, Director International relations and organizing secretary said, " the conference 'confluence' aims at creating a forum for meaningful research in the field of learning and teaching English language. It serves as platform for dialogue and debate between the researchers and teachers of English on one hand and learners of the language on the other .Students will also be the part of the session and will share their views and the difficulties faced by them in learning English. There is a vacuum in this field and we want to fill this vacuum." She added.
During the conference 500 papers will presented. 50 delegates from around the world  and more than 500 delegates fromIndiawill take part in the Programme. Globally renowned ESL Stalwarts like Dr Margaret lieb fromMeiji University,Japan, Leila mouhanna,UAEUniversityand Dr Carmen Velica,American university inDubaiare the key note speakers at event.
Prof. Mohan Gaikwad, Chairman, Gaikwad-Patil Group of Institutions stressing on the importance of language said, "Language plays an important role. Command on language and half the battle is won." He added.
Sessions on language anxiety, assessment methodology ,  resource material and other facets of the language will be conducted in the 2 two day conference.
Prof Mohan Gaikwad Chairman, Prof Anjali Patil Gaikwad the Convenor of the Programme,  Prof. Sharad Patil, President,  Gaikwad Patil Group of institutions , G.K Awari , Principal of the college and Prof. Shubhlaxmi Taywade briefed the media.
Prof. Vandana muley and Prof Ashwin Jaipurkar were also present during the press conference.