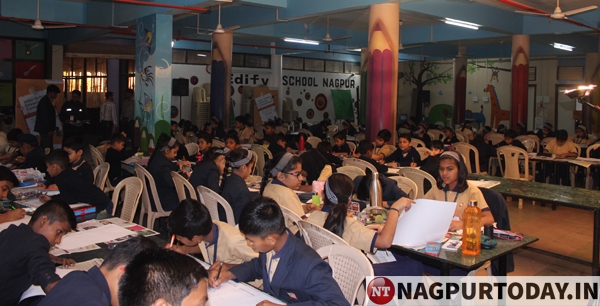 Edify school, Kamptee Road, Nagpur hosted Interschool Drawing Competition with a view to increase public awareness about the need for treating animals with affectionand care and respect their natural habitat; in association with Save Speechless organization(SSO), Nagpur that aims to promote compassion towards animals by uprooting from human minds all the possibilities of animal abuse and providing the 'speechless' animals with food, shelter and the treatment needed.
More than 125 students including students from various schools portrayed their emotions for the lovely creatures with zest on the gleeful morning of Wednesday, 13th February on Edify's campus. 'Animals are our friends','Stop Caging Animals','Stop Animal Abuse',etc.we're the themes under three categories A,B and C.The students painted beautiful pictures speaking loudly for their sensibility towards the speechless animals. A child of grade VI portrayed a child inside a cage along with a pet animal and wrote the caption, "Papa, when will you bring food, I'm very hungry." The painting effectively foretold the horrible side of the nature's decisions if man acted carelessly.
Thear tsygatheringofstudentswasaddressed by there spected Principal, Dr Plex John with as oul-stirringspeechonthecreaturesandtheirpitiableconditionsduetohumannegligence. Hesaid, "Wecan' thavebalancedecologyifwedon' tsavethesecreaturesthataddtothebeautyof the nature also." The Directors Mandeep Tuliand Inderpreet Singh Tuli also threw light on the need for protecting and caring for the animals. They said "drawing is the best form of art that can be used to invoke emotions and appeal to the masses.So, let artists in you do some work for humanity." The couple also encouraged the students to care for animals.Rest Shethia of grade V won the first prize in category B.