Nagpur Today: How old is your relationship with education and how did it all start?
Dr. Vilas Shridhar Sapkal: I have been in the teaching line for more than 20 years. I did my graduation from LIT Nagpur and went to IIT Mumbai for my Masters. After my Masters in Chemical Engineering I continued my Chemical Research in the industry itself and finally joined as Professor & Head,
Department of Chemical Technology, Sant Gadge Baba Amravati University, Amravati and worked in that institution  for 15 years this has been my association with education .
Nagpur Today: Did you always want to become a teacher or something happened that brought you to the field of teaching?
Dr. Vilas Shridhar Sapkal: I choose to get into teaching out of interest for this particular profession.
Nagpur Today : What is your take on the present education system? Different people have different say about it few of the people support it and few blame it but you being and educationalist what your take on it? Moreover you're the VC of Nagpur University?
Dr. Vilas Shridhar Sapkal: Education in our country varies from state wise as well as national wise. But if you consider the state of Maharashtra the education is governed by the Maharasthra Education Act. As far as the outcome of the education system is concerned there has to be a match between what is required and what are we teaching and definitely this gap is getting narrowed down and we are working hard towards archiving this goal. There are changes that are taking place like grading system and credit system that are making our efforts noticeable and these changes are been made in the 12th year plan.
Nagpur Today: Are you satisfied with the curriculum taught in our educational system?
Dr. Vilas Shridhar Sapkal: We have updated our current education system with the help  of experts from various fields and that's the reason our syllabus has been updated.
Nagpur Today: Just a couple of days back Mr Kapil Sibal in an interview mentioned that he would like to eradicate the current hierarchy which has a lot of political figures that are heading some of the big institutions in India at their higher level management? Mr Sibal wants to put personalities from various sectors who can contribute to a better education system. Are you happy with his decision?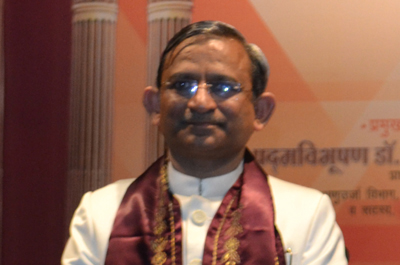 Dr. Vilas Shridhar Sapkal: According to me the institution should define Mission and Vision and should focus in achieving this goal. For this to goal to be achieved only capable persons should head these institution and that will help grow the education system and also to have the best system of teaching and teachers in the country. There has been an act included  in Maharashtra which has redefined authorities which will help a greater amount of participation of people from every walk of life .
Nagpur Today: April 22 2012 university scam of leaked papers, then the chancellor calls you sir for a meeting? What was the outcome and has any necessary steps been taken..?
Dr. Vilas Shridhar Sapkal: First of all after we came to know about the scam our authorities have made a decision of probing into the matter and we have handed it to the police who have investigated the matter and confirmed the leak and then we directly changed the questions and conducted the exam as per schedule. This incident happened because of the irresponsibility of the person who was in-charge of that particular section. I do not blame the system as the university is 90 years old  but the person in-charge as the system never fails it's the people working in it that make the system to fail.  
Nagpur Today: The MCA scam which shook the university to core was brought to the fore in July; neither action has been taken against these colleges as they didn't respond to any notices sent by NU on July 30?
Dr. Vilas Shridhar Sapkal: this particular incident definitely was a mistake on the part of the colleges . I wouldn't term this as a scam but when we sent notices to colleges they definitely responded to our notices. Don't jump to conclusion as we have looked into the matter and have asked the colleges to give us their feedback and we will strictly go about with the provision in the ordinance in order to solve this matter.
Nagpur Today: Any future plans for Nagpur University as we have seen that no Indian college our university is near to the top 200 list of universities that are published every year by various publication houses in the world?
Dr. Vilas Shridhar Sapkal: There are a lot of future plans for the Nagpur University. New programs to be started in tune with the requirement of the industry whether it is Nano Technology or the 5 year integrated plan, short term courses and full time programs also. Coming to the latter part of your question as to why there isn't an Indian college in the IVY league is very simple, we together can make a difference towards the progress of the university then only it will find its place in the top 200 but also as the number one university or college in the world. Every one should contribute and think that this is their university and should step back and show disrespect towards the university and should step forward and help make the university one of the best in the country.
Nagpur Today: What do you do in your leisure time?
Dr. Vilas Shridhar Sapkal: I spend more time in doing research because 10th students are doing PhD research under me and I also read a lot of chemical engineering books and that finishes my day.
Nagpur Today: Best wishes for Nagpur Today?
Dr. Vilas Shridhar Sapkal: Be positive, take this university as your own, protect the image of the university so that students will get benefit and go for factual and correct news and this together will help the students to grow and be successful .