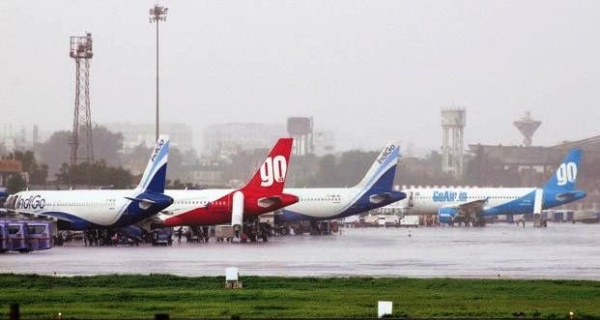 New Delhi: In other news, domestic carriers IndiGo and GoAir cancelled around 50 flights today as almost one-third of their A320 Neo aircraft fleet remained grounded for the third day following a safety directive by aviation watchdog DGCA.
Of the 48 flights, which are not being operated as part of the curtailed schedule, 42 are of IndiGo and six of GoAir. GoAir has also announced that it is cancelling 18 flights from March 15 to 24.
IndiGo has cancelled 42 flights for March 14. They includes flights to Mumbai, Kolkata, Pune, Jaipur, Srinagar, Bhubaneswar, Chennai, Delhi, Dehradun, Amritsar, Bengaluru and Hyderabad, among others, the airline announced on its website.
However, the Wadia Group-promoted GoAir said it had cancelled a total of six flights today due to the grounding of three of its A320 Neo planes, as against 18 yesterday.
In an announcement on its website, GoAir said it would cancel 18 flights, including 8 daily ones, from March 15 to 24. These include flights from Cochin, Bengaluru, Chennai, Hyderabad, Bhubaneswar and Kolkata.
The Gurugram-headquartered IndiGo operates over 1,000 daily flights while GoAir offers 230 services daily.
Yesterday, the two airlines together had cancelled over 65 flights, with IndiGo alone cancelling over 47 services, due to the grounding of their 11 aircraft — eight of IndiGo and three of GoAir — by the Directorate General of Civil Aviation on March 13, citing passengers safety concerns arising out of the mid-air shut down of the Pratt& Whitney- manufactured Neo engines of these airplanes.