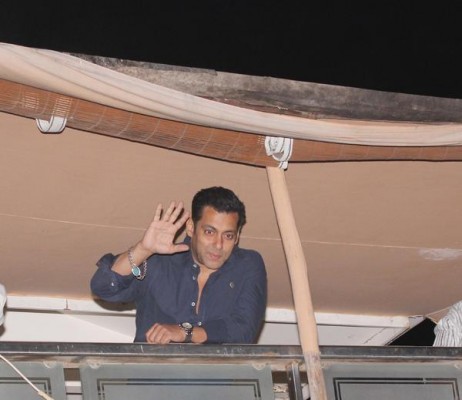 Today Salman Khan turns 47. This birthday could well be Salman Khan's last one at home. Next year at this time, Salman hopes to be in his new home which is quite near to Galaxy apartments where he stays at the moment.
A very close friend of the superstar says, "This year Salman's birthday bash was supposed to take place in his farm house as usual. But Salman said to have the party at home this time the behind this is because his next birthday would be in his new residence. It's a very unhappy thought for Salman but what to do? Galaxy Apartments is getting cramped for him, his wardrobe and his cars. He fought off moving out as long as he could."
Salman Khan, born to Salim Khan and Salma in 1965, first tasted success when his film 'Maine Pyar Kiya' (1989) was declared a hit. Since then, Salman's rise to stardom has been phenomenal, with many crests and troughs. Despite being embroiled in controversies, the actor has managed to carve a spectacular place for himself in the industry.
His latest release this year, 'Dabangg 2', which is still going marvelously strong at the box office, might just usher in another birthday gift for the actor. The film, that had been able to gather close to 93 crores till December 26, might cross the 100 crore mark today – thereby making his birthday even more special for both Sallu and his fans!
Unlike the 3-day extended birthday at his farm-house every year, this year Salman Khan brings in his birthday with a party at his home in Bandra. The guest list: Aamir Khan & wife Kiran, Sajid Nadiadwala, Farah Khan and husband Shirish Kunder, Sonakshi Sinha with her parents. A host of guests are expected to drop in.
Katina Kaif who is in London with her family for Christmas and New Year, has already sent her birthday wishes.
There is a sense of foreboding among Salman's family and friends that this time on his birthday the superstar's hit-and-run case from 2002 may come visiting him.
Salman, in fact, added to his well-wishers' fears by drawling at a press conference that he might be in court on his birthday. But if the truth be told, Salman is not the least worried about the 2002 case catching up with him this birthday.
The actor's close friend says, "Salman is the most fearless and outspoken star in the industry. He isn't the least afraid of facing the truth, whatever it may be. He has told us, 'Jail jaana hoga to jayenge. Jo kismet mein likha hai who nibhayenge. We just feel bad that God has given Salman the biggest stardom possible. And then he has given him these police ka chakkar and also health problems. His neurological problem is far from over."
We also hear from the friend that contrary to his declarations that marriage will happen when it happens, Salman has decided to not get married at all. "He feels marriage is not written in his horoscope. Since it hasn't happened for so long, he feels it's not meant to happen at all."
As the actor turns a year older, we join all his fans, family and well-wishers in wishing him a very happy birthday and a fruitful, smooth year ahead!