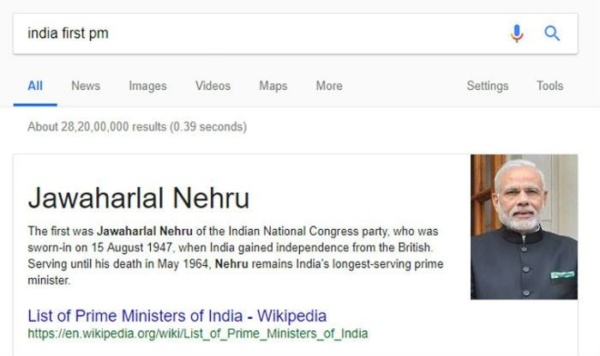 New Delhi: Google search glitches aren't new. Now, the Google algorithms are in question because of a curious thing that happens when you type 'India First PM' into Google India's search bar. Netizens have discovered the technological quick early April 25 and took to Twitter to share screenshots of Google's "faux pas" search results of India's first Prime Minister.
When one types "India's first PM" on the Google search engine, the first link that appears on the search page is that of the Wikipedia page of the 'List of Prime Ministers of India', with Jawaharlal Nehru's name in bold and big letters, and a brief description of Nehru, but the twist comes in the form of the image, which is not of Nehru, but of the current Prime Minister, Narendra Modi.
After one Twitter user discovered the quirk, took a screenshot of the search result page and tweeted it out, many others followed the suit, taking screenshots of their own and sharing them on social media, with variants of the question: Why? While some called it a conspiracy, some others threw the question out to the World Wide Web. Even, we are confused and only one question is popping up that why did this technological quirk happen?
Have a look at some of the tweets:
.@Google @GoogleIndia what algorithm of yours allows this?! You're so full of junk- pic.twitter.com/GHyxh3fEWm

— Divya Spandana/Ramya (@divyaspandana) April 25, 2018
Type 'India first pm' in google and result is Mr.Narendra Modi's photo instead of Pt. Jawaharlal Nehru. @Google Pls correct it.. How come you also fell in the trap of Mr.Modi? pic.twitter.com/H8zlP9zzW0

— Ashok Tanwar (@AshokTanwar_INC) April 25, 2018
Surprised seeing the result of Ist PM pic in google search as "India first PM" @narendramodi @akashbanerjee @atanubhuyan @tulika_devi @pranaybordoloi #IndiafirstPM #google pic.twitter.com/5uhnLlTlJc

— Afrida Hussain (@afrida786) April 25, 2018
While Google has not responded to any of these questions, here's one tweet that has explained the reason behind this technological quirk.
Take a look:
Sigh..
1. Google is serving up a Wikipedia page on the topic, "List of Prime Ministers of India – Wikipedia"
2. The first image on the Wikipedia page is of Narendra Modi, PM.
3. When displayed on a narrow screen, the image comes up first.
Can the lady NOT understand this? https://t.co/wuQqMCbWx4

— Abhinav Agarwal (@AbhinavAgarwal) April 25, 2018
The tweet is enough to explain the reason behind the glitch that showcases the first image on the Wikipedia page of the 'List of Prime Ministers of India', which when opened clearly states that Narendra Modi "is the current (14th) Prime Minister of India, since 26 May 2014". Thanks to the Twitter user, we got an explanation for this eventually.