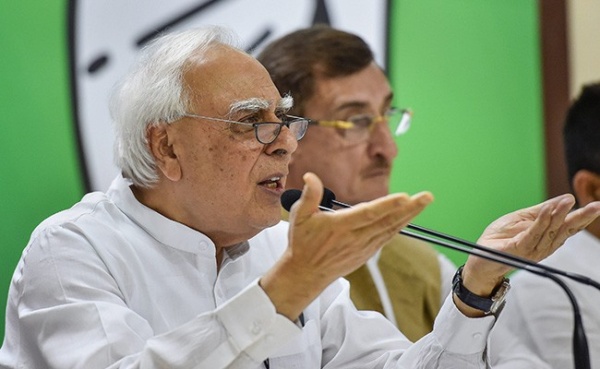 New Delhi: Senior Congress leader Kapil Sibal on Thursday launched a scathing attack on BJP-led Central Government over its refusal to elevate Justice KM Joseph to the apex court as recommended by the Supreme Court Collegium, saying the BJP just wants judges of its choice and that the Narendra Modi Government considers itself above the law. "The judicial system in India is in danger. Despite Supreme Court Collegium recommending elevation of Justice Joseph still the Central Government refused to do so," Sibal said.
Sibal further said, "Government wants only those judges of their choice. The Centre is disregarding the Collegium. The Government has only one funda. To whom they are not easy, they will not approve the appointment. Judiciary in India is in danger. If judiciary is not protected, then democracy is in danger, too,"Sibal stated. " " The government on Thursday returned to the Supreme Court collegium its recommendation to elevate Justice KM Joseph to the apex court and asked it to reconsider it, a move which may widen rift between the judiciary and the executive.
The Congress leader also mentioned about the name of Suraj Lolge who hails from Nagpur and had filed first PIL in Nagpur High Court demanding high-level probe into Judge Loya death. "Suraj Lolge is close to BJP and RSS. He had sought ticket for Nagpur Municipal Corporation poll. He had deposited money for ticket. We are in possession of the receipt," Sibal said. He further said that the motive behind filing of the PIL is not known to us. He said Congress party is in possession of conversation between Lolge and one unidentified person. In the conversation, Lolge mentions name of Bhaiyyaji Joshi on whose behalf he had filed the PIL. The conversation dates back to February 2018. Sibal said.
Sibal said the number of approved posts of High Court judges is 771. The total posts are 1079 out of which 410 posts are vacant. "Government is not approving appointments of judges. They want to pack the high courts with their own men. 60 vacancies are in Allahabad High Court alone. 39 in Kolkata, 22 in Gujarat, 21 in MP, 17 in Rajasthan. Vacant posts of judges in high courts put the people to losses. They are not getting justice," Sibal lamented.
Earlier today, senior Congress leader Chidambaram tweeted saying he was "delighted" Indu Malhotra is being elevated to the top court but "disappointed" that Justice Joseph's appointment is still on hold.
Meanwhile, the BJP's Ravishankar Prasad went on the offensive and said the Congress party's record with the judiciary when in power is spotty. "The Congress has no moral authority or stand to ask questions about dignity of the judiciary from us. The whole record of Congress party is littered with repeated instances as to how the judiciary of India was supposed to be compromised," he said.