Indian Plastic Industry a solution with major growth potential

Growing investment in technology & high income boosting demand
An Excellent opportunity for youth entrepreneurs to set up Plastic Industry in Vidarbha
Industry needing lowest investment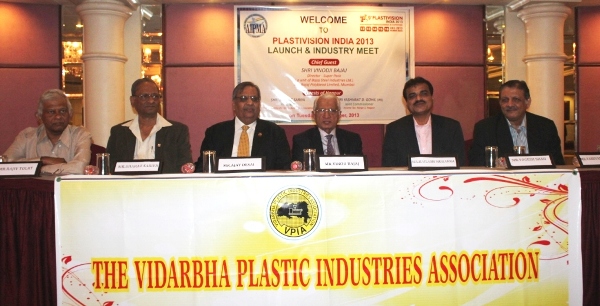 Nagpur News.
In an exclusive interview with Co-Chairman Plastivision India 2013 Kailash B Murarka, He said that The All India Plastic Manufacturers' Association is 70 years old and has offices in all the metros of India. They have 20,000 members (Plastic Manufacturers) in our country. Murarka who is passionate about plastic opined that Plastic is a wonderful and fantastic material. He said that Plastic has become one of the most important necessities of life. Plastic has helped our environment immensely. Had plastic not invented or created probably not a single tree would be alive in the world. Plastic has replaced wood. Plastic felicitates saving energy. While explaining that he said that the Dreamline Aircraft which is said to save 20 per cent fuel as compared to other aircrafts, is able to do that only because of plastic components. Another important fact that he explained was, be it metal, glass, aluminum, all consume a lot of energy when they have to be converted to a particular shape or an object. While plastic is the only material that uses the least amount of energy to be converted to any shape or object. This makes it environment friendly.
He said that any new car launched which boasts of giving maximum mileage per liter is possible only because of plastics. He said that Plastic Industry is 120 Million Dollars (USD) and the growth rate is 15 per cent.
His passion for plastics could be explained when he called Plastic Industry as the "Sunrise" industry with tremendous growth potentials. Explaining the beauty of Plastic he said that Plastic is the lightest among all material; It is not fragile so handling is easy. Packaging and transport too is easy and cheaper. From big goods to the smallest, everyday fast moving consumer good everything is packed in plastics.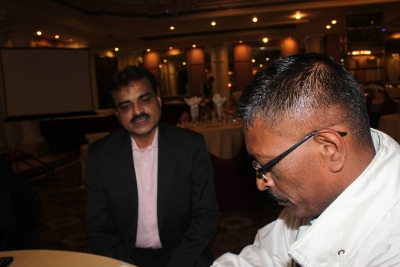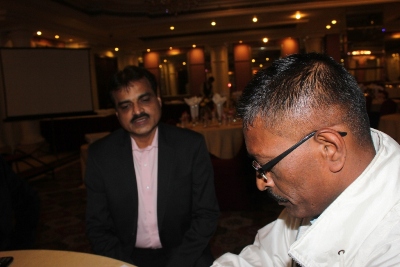 He explained how as an Association they are fighting against some NGOs with ulterior motives malign the image of Plastic Industry and demand ban of plastic goods. While defending Plastic Industry, He said that Plastic is not only environmentally friendly, it is 100 per cent recyclable. Very vital installations like hospitals would not survive without plastic. (Blood Bags, Saline Tube, Surgical equipments etc.). He added that Almost all electrical and Electronic goods survive only because of plastic.
In a press meet, Co-Chairman Plastivision India 2013 Kailash B Murarka explained about the 9th Plastivision India 2013 which is to be held in Mumbai from December 12-16. He said that this expo would provide a platform for all stakeholders for future growth prospects of Plastic Industry. One of the areas where more attention may be focused is bio-degradable plastics.
At Plastivision India 2013, premium trade fair organized by AIPMA, the Plastics industry is set to achieve great impetus. Concentrated efforts of the AIPMA are set to fasten the growth rate of plastic consumption to 20 million tons a year from the current 8 million tons a year in India. This 5-day event would provide an opportunity for all stakeholders to view into the kaleidoscope of the growth prospects of Plastic Industry. The 9th Plastivision India 2013 would consist of unique features that highlight the support received by the industry this time around. With dedicated pavilions like Indiamold, Plastiworld, Plastics In Agriculture, Automation Et Robotics in Plastics Pavilion, Green Pavilion, Solar Energy Pavilion and Plastics in Medical Pavilion.
Speaking on the relevance of Plastivision India 2013 President of AIPMA Anand Oza said that Plastics is one of the biggest contributors to India's GDP with the growth rate of 12%-15% per annum, it houses over 50,000 manufacturers and employees of over 40 lakhs workers in the plastics industry. Apart from covering the plastic industry comprehensively at Plastivision India 2013, their aim is to highlight the demands with the government and motivate policy changes that better the growth of the industry. They also appeal for Technology Up gradation Fund (TUF) like status for the plastic industry from the government.
Commenting on Plastivision India 2013, Chairman of Plastivision India 2013 Raju Desai said that with per capita consumption of plastics expected to grow rapidly to 20 kgs by 2020 from the current 8 kgs, the processing industry is looking at growth to cater to the increasing demand from across India. He said that they would like to contribute our share to the society and propagate that plastic is not bad, but it is waste management that needs to be paid attention to. Hence, they have also undertaken several initiatives nationally for recycling of plastics. At Plastivision India 2013, they would be demonstrating successfully that usage of plastics is actually taking a load off our precious non-renewable resources and help the environment.
He added that an initiative like Plasticulture is a special campaign wherein the industry is working closely with farmers to use plastics for enhancing farm productivity. Plastivision India 2013 will also showcase special pavilion that would further boost the growth of the industry. Highlighting the fact that the industry is conscious of its social responsibilities, Oza briefed that, the industry and the government needs to work together on technology, innovations and infrastructure for recycling of plastics. As a very large portion of the manufacturers are in SME sector, the solutions need to emerge with cooperation between the processing industry and the policy makers taking advantage of platforms such as Plastivision India 201 3 where all stakeholders will be present.
Adding further, Co-Chairman of "Plastivision India 2013 Kailash Murarka said that this show is India's premier industry trade fair organized by AIPMA at Mumbai, Goregaon Exhibition Center would be attended by over, 100,000 visitors, 1500 exhibitors from 30 countries. Nine countries/regions that would have special pavilions include USA, China, European Union, UK, Germany, Italy, Turkey, Taiwan am Korea. He claimed that they have received excellent response from visitors who have registered online to visit Plastivision India 2013. Over 9000 visitors have already registered online. Plastivision India 2013 is a show "not to be missed" for anyone who is related to the plastic industry."
Salient Features of PLASTIVISION INDIA-2013
IndiaMold: IndiaMold pavilion is first ever focused tool pavilion on mold making, design and application development. This will give a unique opportunity for molds, dies and tooling industry under the umbrella of Plastivision India 2013. In association with DEMAT (organizers of Euro Mold), with its key focus on the molding industry present in the country, this pavilion will tap and showcase the strengths of this industry.
PlastiWorld (Plastics Finished Products): PlastiWorld (Plastics Finished Products) will witness quality participation from manufacturers of finished plastic products from all over the globe. The highlight of PLASTIWORLD PAVILION shall be massive display of finished products in segments like Packaging, Automobile, Engineering, Infrastructure, Agriculture, Healthcare and many others.  Major players in the above segments have already confirmed their participation.
Automation Pavilion: Objective of "Automation Pavilion at Plastivision India 2013" is to build capacities of local entrepreneurs and industry in India by bringing in modern techniques in order to attain commercial competencies and an optimal exploitation of vast technologies available in the industrial and robotic automation industry. This pavilion will present a massive display of innovative & productive automation engineering.
Green Pavilion: To address and highlight the burning issues of plastics and its effect on the environment, the 'Green Pavilion' will be an area set up for this cause. Further, the pavilion will be themed 'No life without plastics' mantra by focusing on its responsible disposal. This segment will prove to be a point of edutainment that will bring new life to PLASTIVISION INDIA 2013. The Green Pavilion will be a prominent element of PLASTIVISION INDIA 2013 featuring exhibitors with innovative green products and services as well as technologies that balance best business practices and environmentally-friendly considerations.
Solar Energy Pavilion: The Solar Energy Pavilion in PLASTIVISION INDIA 2013 will exhibit and promote the use of solar energy as a renewable source of energy in plastic industry. By decreasing dependence on conventional energy sources, the basic mission is to demonstrate the various technologies of solar energy production, its systems and its economies. This time in the solar energy pavilion 'Solvay' will display a plane which runs on solar energy.
Plastic in Agriculture Pavilion: Agriculture has an important role to play in the Indian economy. For years, the growing use of plastics in agriculture has helped farmers increase crop production, improve food quality and reduce the ecological footprint of their activity. At the 'Plastics in Agriculture' pavilion, the role of plastics in agriculture showing applications of various plastics products for water conservation and crop optimization will be displayed.
Plastics in Medical Pavilion: Plastics in medical pavilion will showcase use of plastics in the medical industry.
Job Fair Pavilion: During Plastivision India 2013 JOB & CAREER fair will also be organized. This will be focused only for plastic industry, first of its kind Job & Career Fair in the history of any plastic exhibition. Till now over 25 companies have registered
Consultant Clinic Pavilion: Another important and new initiative at Plastivision India 2013 will be the Consultant Clinic. Consultant Clinic will have paramount and knowledgeable people from the plastic industry who will give consultancy and advice to the people who will visit the Consultant Clinic.