Eleven Star beat Qidwai 4-3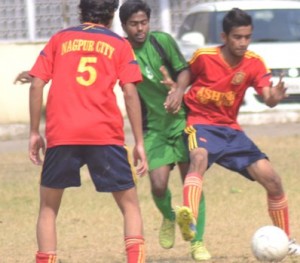 Nagpur News.
Eleven Star beat Qidwai Sporting via-tie-breaker 4-3 in the eliminator match of Meghe Senior Division Football Tournament here at Police Line Takli ground on November 3, 2013. The tournament has been organised by Nagpur District Football Association which is sponsored by Meghe Group.
In the tie-breaker, Eleven Star scored their first goal through Mohd. Alfaiz. This was followed by second, third and fourth goal by Shadab Ansari, Mohd. Faizan and Sohail Akhtar respectively with the regulation time of 0-0. Wherein, Adnan Khan, Shoeb Khan, and Aquib Khan of Qidwai Sporting scored three goals but failed to equalize the score against Eleven Star. During the tie-breaker, Aquib khan of Quidwai was shown a yellow card in the 70th min.
Meghe first Division
Al-Aziz Sports Club blanked Nagpur City Club 3-1, in the First Division Football Tournament. Mohd. Kafeel of Al-Aziz struck a first goal in the 32min. Zakir Sheikh of NCC opened the account by scoring a lone goal in the 66th min. Nevertheless, Usman and Mohd. Tabrez Sheikh of Al-Aziz scored two more goals in the 74th and 80th min. Aquib Iqbal of Al-Aziz was cautioned with yellow card duirng the match.
Also, the position of the teams for Meghe First Division's eliminator match is:
1st place: Taj Sporting
2nd place : Nagpur City Club
3rd place : Central Railway Institute
4th place : Al-Aziz Sports Club
Schedule for tomorrow's fixture:
Meghe Senior Division
Qualifier 1. Rahul Brothers v/s Ansar Club at 1.00pm on police ground.
Meghe first Division
Qualifier 1. Taj Sporting v/s Nagpur City Club at 8.30am on police ground.
Eliminator match: Al-Aziz Sports Club v/s Central Railway Institute at 10.00am on police ground.
Darda Second division League
No matches tomorrow. 5-12-2013 onwards.