Indian Airforce transfers land to MIHAN for International Airport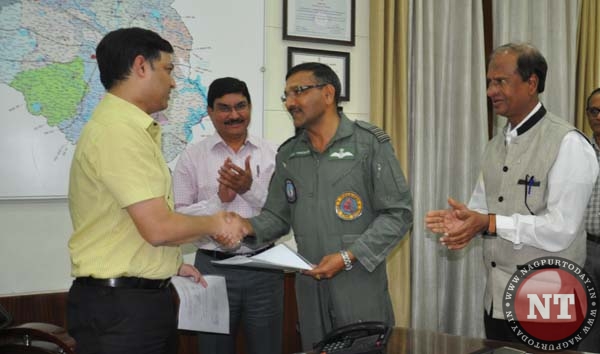 Nagpur: With the transfer of Indian Airforce's 219.58 hectare of land to Maharashtra Airport Development Company has cleared all the hurdles in construction International Airport. In exchange of this land MIHAN has given its 377.59 hectare of land to Indian Airforce.
District Collector Sachin Kurve and Indian Airforce Station Commandant and Group Captain A K Chourasia in a meeting at the District Collectorate signed the important documents of transfer and tranferred the to Maharashtra Airport Development Company.
Prominent among those present on the occasion were Additional Collector and Mihan Project Rehabilitation Officer Prakash Patil, MIHAN's Technical Adviser S V Chahande, Chief Engineer S K Chatterjee, Wing Commander Manoj Mehta, Squadron Leader Kale, S Singh, C P Singh, Estate Officer Nikhar, District Superintendent Land Records Suryakant More and City Land Survey Officer Bhushan Mohite.
In 2002 when the MIHAN Project began Indian Airforce had handed over the land for MIHAN Project and it was decided that Indian Airforce would be given 400 hectare of land.
It may be mentioned that Chief Minister Devendra Fadnavis had been continuously following the land transfer case with the Defence Ministry. Similarly, Union Minister Nitin Gadkari had a meeting with the then Defence Minister Manohar Parikar on 17 May, 2015 and discussed with him the transfer of land in two phases.
Soon after this the process between the Indian Airforce and Maharashtra Airport Development Company regarding the land began in 2016. District Collector Sachin Kurve followed the land transfer case and completed the process. Guardian Minister also followed up the MIHAN project with Indian Airforce.
Out of the 400 hectare of land 377.59 hectare has been transferred to Indian Airforce. This is an important phase for the progress of MIHAN Project. This will give a boost the tender process started by the government for International Airport Development.
Due to the efforts of Chief Minister Devendra Fadnavis and Guardian Minister Chandrashekhar Bawankule the land transfer process gained monmentum and so District Collector Sachin Kurve and Indian Airforce Station Commandant and Group Captain A K Chourasia could complete the entire process. Since the land transfer document were handed over by Indian Airforce to Technical Adviser this will boost development of MIHAN.
CM thanks Union Minister for land Transfer
Chief Minister Devendra Fadnavis thanked Defence Minister Nirmala Sitaraman and Union Minister Nitin Gadkari for the of transfer of land by Indian Airforce to Maharashtra Airport Development Company. With this historic decision Maharashtra Airport Development Company's development will gain momentum.