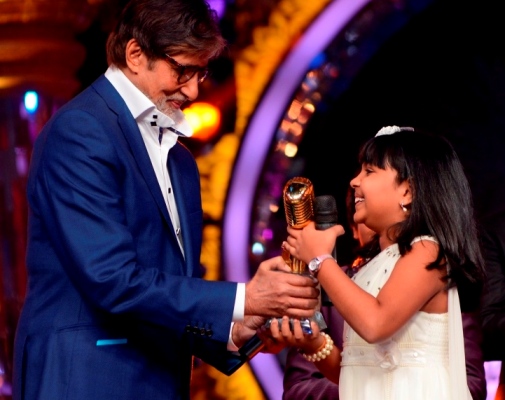 Nagpur News:
The show that enthralled viewers across the country and touched a billion hearts, a journey which started with 86 contestants who came from across India has now come to an end as India gets its 'First Indian Idol Junior'. After three months of rigorous competition, hard work and millions of votes, Anjana Padmanabhan was crowned the winner by none other than the living legend Amitabh Bachchan himself, while Debanjana Mitra, Anmol Jaswal and Nirvesh Dave secured the first and the second runners-up position respectively. The finale was a visual spectacle of sorts with Priyanka Chopra, Shahid Kapoor and Ramcharan setting the stage on fire with their scintillating performances.
The first Indian Idol Junior received a grand prize money of 25 lakhs from Sony Entertainment Television, a Nissan Micra Car, a fixed deposit of 5 Lakhs from Kotak and 2 Lakhs from Horlicks. The grand finale which was aired almost live on Sony Entertainment Television saw the homecoming of the top 11 contestants who entertained the audience with special performances along with electrifying performances by judges Shreya Ghoshal, Vishal Dadlani and Shekhar Ravjiani.
Ecstatic and overwhelmed with her win, Anjana Padmanabhan said, "Although we were competing against each other, we were like a family filled with unique characters and had our moments of joy and sorrow. I am thrilled at having been chosen the nation's first Indian Idol Junior. All I can say is a big heartfelt thank you for liking me and helping me achieve my dream.
Ms. Sneha Rajani, Senior EVP and Business Head, Sony Entertainment Television adds, "I wish Anjana Padmanabhan, the first Indian Idol Junior all the very best for a bright future. Indian Idol Junior has set a new benchmark in the world of singing reality shows. These little wonders have created waves in the entire nation by showcasing their amazing talent.
Anupama Mandloi, Content Head, Fremantle Media India added, "This season is a matter of immense pride for us at Fremantle media. We have unearthed brilliant talent and some of the juniors are sure to make a mark in the music industry. It's been an enjoyable and collaborative experience and we are all pleased with the show and the worldwide appreciation it has garnered".