India, Germany exchange 18 Memorandums of Understanding on Monday


Achievement for Modi's "Make-in-India" call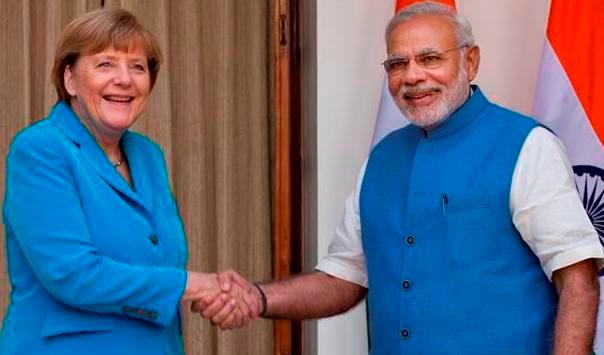 New Delhi/ Nagpur: Prime Minister Narendra Modi's visit to Germany bearing the desired fruits, India and Germany on Monday entered into a mutual agreement to fast-track business approvals, an arrangement to make it easier for German companies to operate in Asia's third largest economy that was announced during German Chancellor Angela Merkel's visit to New Delhi, informed reports after a press conference held in New Delhi.
The fast-track approvals process will ensure that German firms will have a single point of contact in the Indian administration, helping them to navigate a web of red tape that often thwarts business initiative.
The agreement is the first of its kind and comes as Prime Minister Narendra Modi seeks to attract foreign investment in support of his "Make in India" drive to boost industrial investment and create skilled jobs.
Commerce secretary Amitabh Kant said that under the fast-track arrangement India "would monitor on a monthly basis all issue for German companies.'
"The prospects are huge because India is just beginning its long spurt for growth," Kant told a business round table.
India and Germany also agreed to enhance ties in key areas of defence manufacturing, trade, intelligence and clean energy during wide-ranging talks between Prime Minister Narendra Modi and German Chancellor Angela Merkel here after which 18 MoUs were inked.
Germany will also provide assistance of over one billion euros for India's green energy corridor and solar projects.
"I admire German leadership in clean energy and commitment to combating climate change," PM Modi said while addressing a joint press conference with German chancellor Angela Merkel.
It may be mentioned that Angela Merkel was given a ceremonial welcome at Rashtrapati Bhavan. She is the topmost powerful woman as per Forbes survey.