The 3rd day of Indefinite Trade bandh in 2nd phase received tremendous support from trading community. Today retail markets of North Nagpur including Sadar, Jaripatka, Kamal Chowk , Pachpaoli, Gol Bazaar were fully closed. Even shopkeepers of Mahal & Kelibag Road responded fully and were closed fully in addition to all wholsale markets.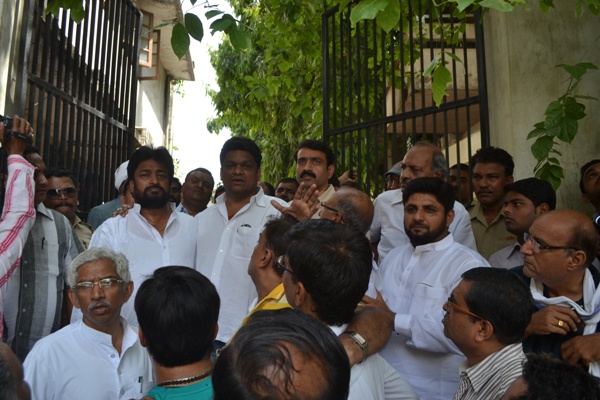 Traders Gherao Town Hall :
            Traders today gheraoed Town Hall where General Body meeting of Nagpur Municipal Corporation was going on. Mayor Anil Sole, Prafull Gudadhe Patil Congress leader , Prakash Gajbhiye & Dunshwar Pethe of NCP , BAndu Talwekar of Shiv Sena & Murli Meshram of BSP were present. All party leaders in Corporation extended their total support to trading community & opposed the imposition of LBT in the state on their personal behalf & on behalf of their party. All of them in one tone assured NVCC of taking up the issue with Chief Minister. More than 2000 traders were present during the Gherao which was led by Shri Dipen Agrawal, President & Shri Radheshyam Sarda, Past President of NVCC. Shri Manubhai Soni, Shri Pradeep Panjwani, Shri Dinesh Sarda, Shri Umesh Patel, Shri Rajesh Lakhotia, Shri Natwar Patel, Shri Ramavtar Totla, Shri Asif Kaliwala, Shri Ramdas Vajani, Shri Hastimal Kataria , Shri Santosh Kabra of NVCC were prominently present at the Gherao.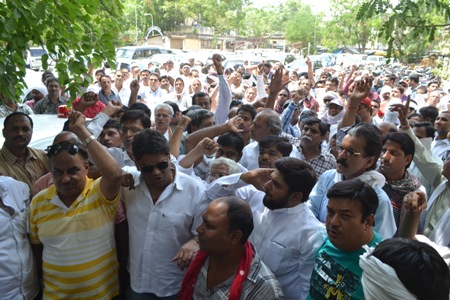 Gherao of Guardian Minister

:
            NVCC members today attempted a Gherao of Guardian Minister Shri Shivajirao Moghe at Ravi Bhawan at 3.00 PM . However , probably Guardian Minister learning about the same left Ravi Bhawan prior to arrival of NVCC members. NVCC members then dispersed after staging a dharna there & after playing Ramdhun & reciting National Anthem.
Even Government Offices, PSU's have not taken LBT Registration
            We are surprised to note that even after last date of registration under LBT having expired, many Central & State Government Offices & PSU's in Nagpur have still not taken registration under LBT. This goes on to prove that LBT has been implemented in haste in Nagpur City without proper education of Traders , Government Offices and PSU's. NVCC members who filled up Petrol & Diesel at IOC owned Petrol Pump at RBI Square were surprised to note that the Petrol Pump has still not registered under LBT.
Moreover the Company owned Petrol Pump is refusing to issue printed bills to customers. NVCC has got a copy of bill of Rs.1000 wherein there is no mention of LBT Number of the said Pump. Even customer Name , Address of the buyer & declaration of LBT is missing in the said bill as is required mandatorily under LBT Act & Rules. Thus if such PSU's like IOC are not following proper guidelines of the Act & Rules of LBT , how does Government & Municipal Corporation expect the same to be followed from small & petty traders who have no infrastructure & manpower to do so.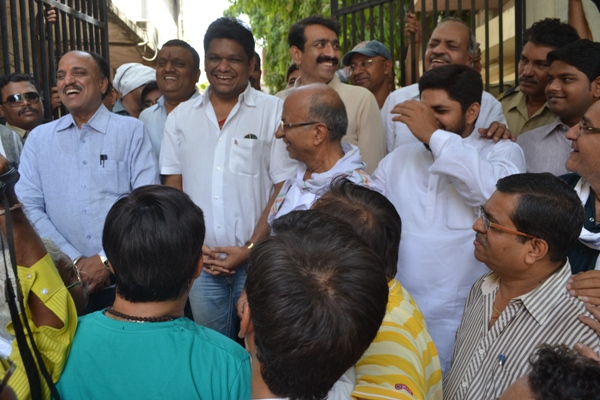 Maha Arti at Ganesh Tekdi on Sunday
            NVCC has organised a program of Maha Arti at Ganesh Tekdi tomorrow Sunday at 12.30 PM to pray to Lord Ganesh to impart wisdom to Chief Minister to withdraw the draconian Act of LBT.  Dipen Agrawal, President NVCC has urged members of Trading community to assemble at NVCC at 12.00 Noon from where the traders shall proceed to Ganesh Tekdi in large numbers. Shri Umesh Patel, Shri Dinesh Sarda, Shri Pradeep Panjwani , Shri Natwar Patel, Shri Murlidhar Gupta, Shri Rajesh Lakhotiya, Shri Pravin Viz, Shri Santosh Kabra, Shri Murlidhar Sharma as well as President & Secretary of various trade associations have requested their members to be present in large numbers at 12 Noon in NVCC to participate in Maha Arti states in a press note issued by Shri Hemant Gandhi, Secretary of the Chamber.