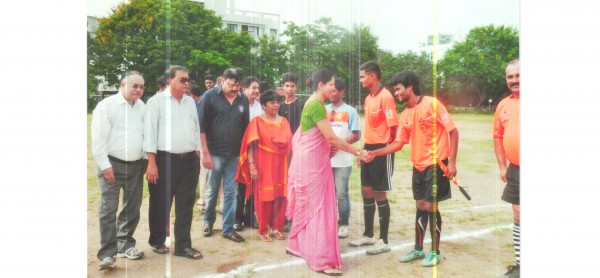 Today 15th September 2012 Inauguration of the 16th YMCA Nagpur under 16 Football Tournament was held on Bishop Cotton School, Sadar at 09:00am.
The Chief Guest for the inaugural function was Mrs. Rachna Singh, Guest of Honor Mrs. Manjusha Stephenson graced the occasion.
In her remarks both of them appreciated the work of YMCA Nagpur and encouraged the players on discipline, time and sportsmanship in their lives. The inaugural match was played between Tuli Public School and Centre Point School, Katol Road.
President of YMCA Mr. Tony Samuel, Vice Presidents Mr. Rohit Macwan and Mr. Ashok Chawla, the Hon. General Secretary Mr. K. Lukanna, Hon. Treasurer Dr. Tomy Prothasis, Board Members Mr. S. P. Chakranarayan, Mr. Ashish Shah, Mr. Anilkumar Singh, staff members of Robertson , Gaddigudam, Head Office were present for this inauguration.
The chairman of the Program Committee Mr. Prakash Karat, Organizing Secretary Dr. Ms. Kalpana Jadhav, the back up team Mr. Pankaj Bhandarkar, Mr. Rohan Bhalerao, Mr. Prashant Bansod, Mr. Rakesh Sawarkar, Mr. Lawrence Felix, Mr. Arun Chikram is working hard for this tournament.
Today