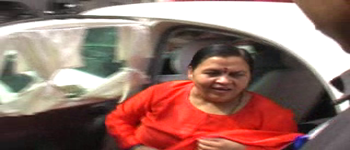 Nagpur News : Uma Bharti, senior BJP leader,On her visit to Ex BJP President Nitin Gadkari said," It is unfair if action is being taken on Praveen Togadiya for his statement and is unfortunate to compare his remarks with Akbaruddin Owaisi.
When asked about Narendra Modi as frontrunner for PM candidate she said, "I will tell my views about this to Rajnath Singh only."
She also praises Nitin Gadkari for his sacrifice from BJP president post.
It may be noted that demand for action against Praveen Togadia over his alleged hate speech intensified, the Centre has asked the Maharashtra government to book the VHP leader if he is found to be violating laws after probing the charges.
The Maharashtra government ordered an inquiry into the provocative speeches made in Nanded last month against members of a particular community even as the state Minorities Affairs Minister Naseem Khan demanded today that it file a case against the firebrand Hindu outfit leader.
The state government, which has assured the Centre at the highest level that they will take due legal process, was asked by the Centre to investigate allegations that Togadia made provocative speeches.
"The Home Ministry's advise is clear. Once they have confirmed forensic evidence, appropriate action as per law must be taken against Togadia," an official said in New Delhi.
Minister of State for Home RPN Singh said if Togadia's speech is inflammatory, the state government must take action against him.