Chaos reigns supreme on squares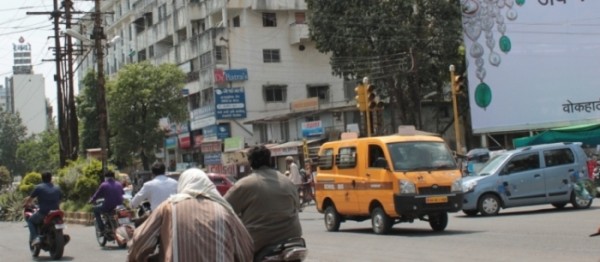 Nagpur News.
Over one-third of the traffic signals in the city are out of place causing chaos on road intersections and inviting accidents. If one takes a ride around the city, it will be revealed that most of the traffic signals are either out of order or not working properly. Although the number of road accidents is on the rise, civic authorities are paying no heed to repair the signals as a precautionary measure to control accidents.
The Nagpur Municipal Corporation has given contract for maintenance of traffic signals in city. But, contractors seem to have turned Nelson's eye in this regard. Almost 35 percent signals are not working properly, a virtual invitation for accidents to happen.
Also, timers at many 'working' signals are either not co-ordinated or not working at all. This again points fingers at the irresponsible attitude of the NMC.
Out of the total 143 traffic lights in city, 48 signals are completely out of order while 8 to 10 traffic light need minor repairs like register short etc. However, instead of repairing the signals, a blame game is on between the contractors and civic authorities.
Contractors are pointing fingers at NMC for repair work while NMC engineers claim that it is the contractor's responsibility to do so. In this silent war between the contractors and NMC officials, the common people might become victim.
The main square where signals are not working properly include Variety Square (One side), Old Katol Naka, square near Pride Hotel, Patne T-Point, Sewa Sadan, Chandrashekhar Azad Square, Vaishnodevi Square, Bharat Nagar, Kamgar Nagar, Patrakar Colony, Sona restaurant, Azad Square, Gangabai ghat, Pardi Naka, Maharajbagh, Bhande Plot, old Bus Stand, Kamal Chowk, Congress Nagar, etc.
No Traffic Warden in city
With initiatives and funds from Municipal Corporations at Jalgaon, Khandesh, and Nanded, Traffic wardens have been appointed in these cities that have ensured proper functioning of traffic flow in the city. These traffic wardens have proved to be of great help to traffic department.
However, no such initiatives have been taken by the NMC which boasts off several awards for good maintenance of the city. The demand for a traffic warden has been made since 2010 but to no avail.
Unavailability of LED lights
NMC has made tall claims to install LED lights in every square of the city. But, about 35 traffic signals are still waiting for these LED lights to be installed. In LED installed signals, bulbs of 100 W are used which might push up the electricity bill of NMC slightly. Hence, the department is very conveniently sidelining installation of these lights.
Missing synchronization of signals
Along with 'not working' traffic signals, synchronization in traffic signals is also missing. The road from Variety Square to Morris College has three signals and smooth traffic flow can easily be attained on this busy road. But due to lack of synchronization in these signals, commuters have to stop at every signal. If experts are to be believed, proper synchronization in these signals can help bring in smooth traffic flow and it will also help commuters to save petrol.