Immersions take a huge toll on Gandhisagar & Futala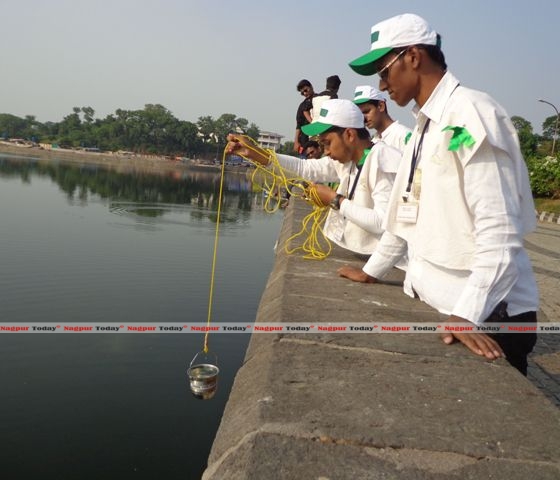 Nagpur: Green Vigil Foundation, a well-recognized NGO thriving in the field of Environment protection and Sustainable development, conducted a scientific study to analyse the impact of Idol immersion and Nirmalaya disposal during Ganesh festival on the lakes of the Nagpur city. Green Vigil Foundation has been undertaking water monitoring program since 2012 and have been in continuous process of putting in order a comprehensive data, thus recorded which is being published in Global Data Book annually prepared by World Water Federation, USA.
Green Vigil Team studied water quality of Sonegaon, Gandhisagar and Futala by means of parameters – temperature, turbidity, pH and dissolved oxygen. The turbidity of Gandhisagar, Futala and Sonegaon lake after immersion was found to be 80 JTU, 60 – 70JTU and 45 – 50 JTU respectively, which shows Sonegaon had least effect on turbidity due to immersion while Futala and Sonegaon seems to be highly turbid. pH, another parameter analyzed was found to be fairly same before and after Ganpati festival ranging from 8.3 – 8.5, 7.5 – 8 and 8.2 – 8.3 for Gandhisagar, Futala and Sonegaon respectively.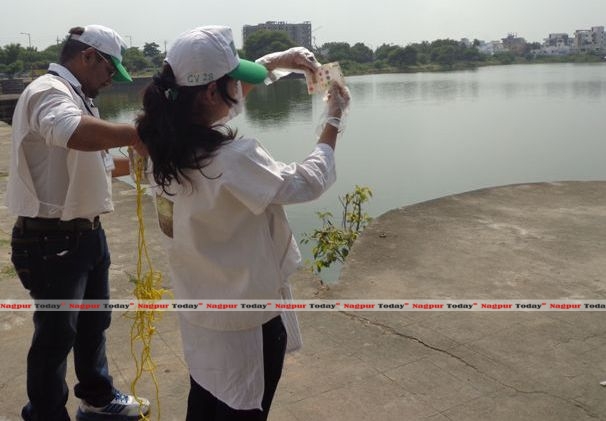 The survey recorded DO level has dipped down drastically at Gandhisagar to 2.5 mg/L and Futala to 2 – 2.5mg/l, while at Sonegaon, it was found to be 5 mg/l, determining good condition of the lake, the probable cause seems to be restriction of idol immersion in sonegaon lake .
Green Vigil Foundation was the one, who tussled thick-skinned for intact 11 days of Ganpati festival to protect the Futala lake at Airforce end , from being polluted by immersion of nirmalaya and idols, be it Plaster of Paris or clay. The members of the Foundation were in full swing to convince the devotees to adopt environment friendly way of Idol immersion by explaining them the ill-effects of Idol immersion and Nirmalaya disposal.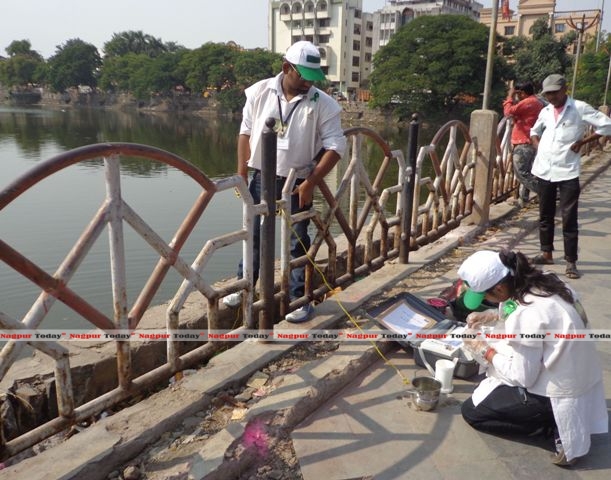 Dr. Kavita Rattan, Founder President, Green Vigil Foundation stated, it is imperative that we realize the importance of Global water ecosystems which are under great threat due to human activities. The recent investigation conducted by our team has again underlined the lack of proper measure to protect lake water habitats in the city which a post-visarjan DO level evidenced that 2mg/l which has dire consequences for lake flora and fauna.
Green Comrade, Kaustav Chatterjee of Green Vigil Foundation stated, we need to urgently focus on collective measures to remediate our lakes and define and follow sustainable water management practices.