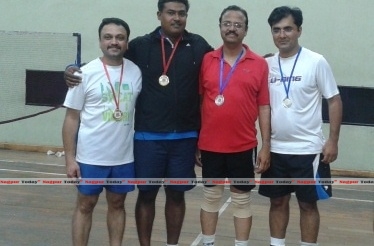 Nagpur News.
In the recently held "Inter IMA Mahasports 2014" at Pune where Doctors from all over Maharashtra participated in various events, doctors from the city brought laurels to IMA, Nagpur.
In Badminton –
Singles – Dr. Debashis Barik won Gold Medal and Dr. Ravi Gurbani, Dr. Arvind Joshi reached semifinals.
Doubles  –  Dr. Debashis Barik, Dr. Abhijit Deo won Gold Medal and Dr. Ravi Gurbani, Dr. Sunil Kumar Rao won Silver. Dr. Sachin Khandekar and Dr. Arvind Joshi stood second runner-up.
Table Tennis – Dr. Jitendra Taori won Gold Medal in Singles and Doubles event.
Swimming – Dr. Dharmendra Mishra Associate Professor, Skin Dept. from IGGMC, Nagpur won Silver Medal in Swimming Competition in events – Free Style, Breast Stroke, Butter Fly and Back Stroke.
Dr. Warsha Dhawale, President, Dr. Vaishali Khandait, Hon. Secretary, Dr Mukesh Waghmare Chairman Sports Committee and all senior members of IMA congratulated them on their huge success.