Nagpur News.
The dubious act of Sameer Joshi was finally brought behind the bars by EOW officials investigating the multi-crore Shreesurya Investment  scam. On the sidelines of Joshi's arrest Nagpur Today got to speak to the Deputy Commissioner of Police (DCP) Crime Branch Sunil Kolhe who has been at the centre of the probe. The excerpts…
Nagpur Today : Why so much delay in the arrest of Sameer Joshi when everything was crystal clear after the raid by EOW and subsequent seizure of crucial computer hard disks and related incriminating documents?
DCP Kolhe:  Look, the alleged duping of investors by the Shreesurya Group and its Chairman Sameer Joshi, according to complaints received so far, is in very large proportions. We had to examine every document, computer data, and other related material very minutely and in details. Any haste in arresting Joshi, as was demanded from several quarters, could have hampered the investigation. That is why the delay or you can say, arrest at the right time.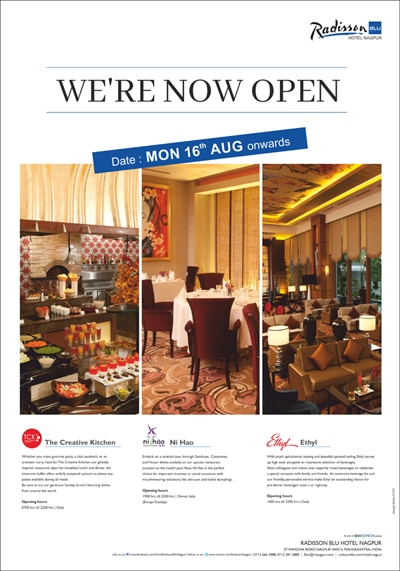 Nagpur Today:  Is there any investment made by political leaders as the names of some top leaders were taking rounds and were also published by some newspapers and electronic media, too?
DCP Kolhe: No comments. We don't comment on what the newspapers or electronic media state.
Nagpur Today: Why no arrest of Pallavi Joshi, also a partner in Shreesurya Group and even after a court had rejected her anticipatory bail?
DCP Kolhe: Everything is part of the investigation. Pallavi Joshi has been issued notice as was done with Sameer Joshi. If the involvement of Pallavi Joshi emerges during the investigation, she will also be arrested. Anyways, she is not absconding as was reported by certain section of media.
Nagpur Today: Have the police arrested Sameer Joshi after the complaints were lodged by the duped investors Amit Morey and Pankaj Mohotkar?
DCP Kolhe: See, we have formally received 239 complaints from allegedly cheated investors including Amit Morey and Pankaj Mohotkar. So the arrest was not only based on complaints.
Nagpur Today: The 239 investors, who lodged complaints, mentioned the money they invested in Shreesurya Group?
DCP Kolhe: We have come to know of investments by the 239 complainants to the tune of Rs 20 crore.
Nagpur Today: Any politician or bigwig from any field?
DCP Kolhe: No comments.
Nagpur Today: Is the network of Sameer Joshi spread across the nation from Kanyakumari to Kashmir and east to west?
DCP Kolhe: It is not problem for us. We would find out and arrest if the investigation reveals any network.
Nagpur Today: Have the top guns in any field invested in massive amount of black money but are not coming forward to lodge complaints and if yes, would you inform Income Tax Department?
DCP Kolhe: No top guns or whatever you say have come forward to lodge complaints. This is just hypothetical question. If and only if such a case is revealed during investigation, we would definitely inform Income Tax Department and other concerned departments, too.
Promissory notes were issued to assure return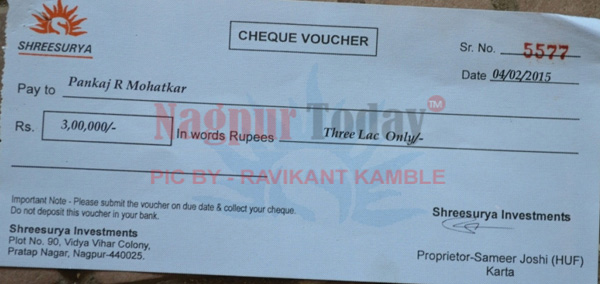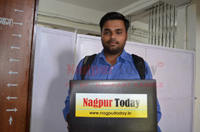 Nagpur Today also talked to Pankaj Mohotkar, who had invested about Rs 20 lakh and lodged a complaint. He disclosed that whenever he invested money in installments in the Shreesurya Group, they used to issue the promissory notes pledging to return amounts with high returns. Joshi used to sign on the promissory notes. Similarly, the Group issued post dated cheque vouchers resembling the bank cheques. It was written in the cheque vouchers that when the vouchers were submitted the investors would receive the principal amount with the high interest. But everything turned bogus and he was cheated and lost Rs 20 lakh.
–       Ravikant Kamble