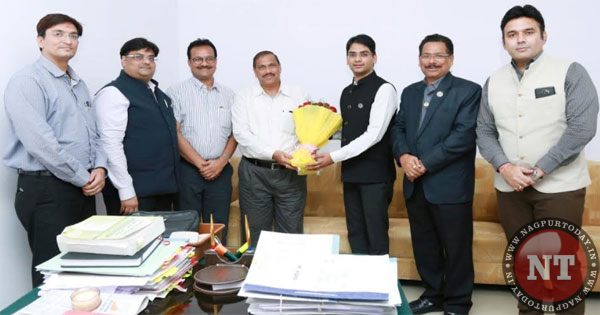 The Nagpur Branch of The Institute of Chartered Accountants of India met and felicitated Joint Commissioner of State GST Shri M M Kokane recently at State Tax Bhavan, Nagpur. A detailed interaction was carried out about GST, Profession Tax & pending Maharashtra VAT matters by the team. The delegation also informed the Jt. Comm. that CAs are not limited to compliance & Auditing practices but are also competing in the area of Litigation at various adjudication & appellate forums.
Shri Kokane appraised about the effects of GST implemention on Traders and manufacturers while acknowledging the role of Chartered Accountants in smooth implementation of this new tax regime last year. Shri Kokane shared his concern with respect to the confusion common man has with GST Rates and the procedural compliances and therefore requested the delegation to undertaken mega public awareness programs for updating various provisions of the law. He further wished that the chartered accountants keep providing inputs to the government so ensuring minimal hardship and ease of compliances by various stakeholders of the society.
CA. Umang V Agrawal, Chairman, Nagpur Branch of ICAI briefed about the activities of the branch. He informed that Nagpur branch which is catering to around 2500 members and more than 12000 students at Nagpur. It has been awarded as the best branch at All India level on several occasions. Chairman informed that GST was implemented prematurely by the authorities but chartered accountants were the first among all the professionals to understand the law and helped the government in publicizing the various laws & regulations under the GST law to common man in the country. While highlighting various initiatives undertaken by the Institute since inception of GST, he elucidated various public awareness programs organized and also numerous suggestions which the Institute has submitted to GST Council pre & post implementation.
CA. Julfesh Shah, while sharing his thoughts on the VAT era and the current GST era appreciated the hardwork which has been carried out by the State GST department for smooth transformation. He on behalf of the CA community thanked the entire department for recognizing the partnership of CA's with department on all fronts.
Further the team requested the Honble Jt. Comm about the problems being faced by the members with respect to the migration, return filing, C-forms issues in the computerized systems.
Shri Kokane reacting to the felicitation said he is impressed with the progress made by Nagpur Branch of ICAI. He lauded the efforts of the branch in the development of the Chartered Accountancy profession.
The delegation consisted of CA. Suren Duragkar, Vice Chairman, CA. Sandeep Jotwani, Past Chairman, CA. Sanjay Agrawal, CA. Jiten Saglani.