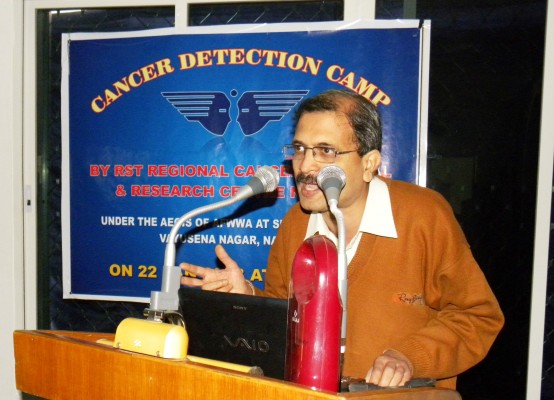 Nagpur News: A cancer detection camp was held at Vayusena Nagar on 22 Jan 2013 at the Station Medicare Centre (SMC), under the auspices of Air Force Wives Welfare Association (AFWWA). Over 350 'Sanginis" (i.e. members of AFWWA) and other family members of Air Warriors underwent check up for early detection and prevention of cancer, namely the oral, breast and cervical cancers.
"The purpose of the camp is to detect any symptoms of cancer at the earliest, so as to treat it timely and also to make the Sangini's aware of how to prevent and manage cancer", said Mrs Sharmila Chandra, President of AFWWA for the Maintenance Command and wife of Air Marshal Jagdish Chandra. Wg Cdr (Mrs) Indu Bala, Doctor and head of the SMC at Vayusena Nagar said, "The wives of the Air warriors are the backbone of our command as they take care of the Air warriors and their homes so that the air warriors can give the 100% on duty. But while looking after their husbands and children, they get so involved that they tend to ignore their own health. It is therefore our duty to ensure their preventive checkups from time to time. This is one such initiative."
Dr. Sarita Kothari, a renowned Gynecologist and Dr. S Sapre, Head and Neck onco-surgeon from Nagpur delivered lectures to the "Sanginis".
Sqn Ldr Vinod and Sqn Ldr Sachin Waghmare, both doctors with the Station Medicare Centre, were responsible for the administrative and clinical arrangements that made the camp a success. Dr Prafulla Chande, Surgical Oncologist and Dr. P Taori, Medical Oncologists of RST Regional Cancer Hospital and Research Centre, Nagpur were present for the cancer detection camp.