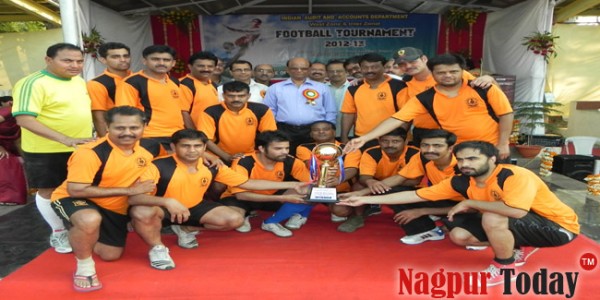 Nagpur News : In the final of I A & A D , West Zone Football Tournament 2012-2013 A.G. Rajasthan, Jaipur beat A.G. Maharashtra,Nagpur in Tie-breaker by 4-3 . In the big tussle both teams tried to score goal, but it was goal less draw in stipulated time. After a goal less draw in tie breaker Ashish Nagar, Ravindra Singh, Leslie Robson and Vikas Kumawat scored for Jaipur but only Atif, Asif and Rajinder Negi could score for hosts, Nagpur.
The patron of the tournament Shri P.A. Ratnaparkhi, Accountant General distributed the prizes to the winners and runners. Shri Ashish Nagar (Goalkeeper ) of Jaipur was declared Player of the Tournament. Dy. Accountants General S/Shri R.V.K. Sai Gandhi, Dr. Vishal Chaware and Suryanarayan Murthy along with Welfare Officers S/Shri D. Varghese and A.R. Deshpande were present at the occasion. Untiring efforts of Recreation Club and all respective committee members made the tournament a grand success.
The All India Inter-zonal tournament will begin from tomorrow (6.2.2013) .
In the final lag of tournament the Inter Zonal tournament will be played among the Winners and Runners of all four zones viz. Principal Accountant General (PAG) , WB, Kolkatta ,PAG, Assam, Guwahati, PAG, Rajasthan, Jaipur, AG, Maharashtra, Nagpur, PAG, Haryana, Chandigarh, PAG, J&K, Srinagar, PAG, Kerala, Thiruvananthapuram and PAG, Tamilnadu, Chennai representing their respective zones as Winners and Runners.