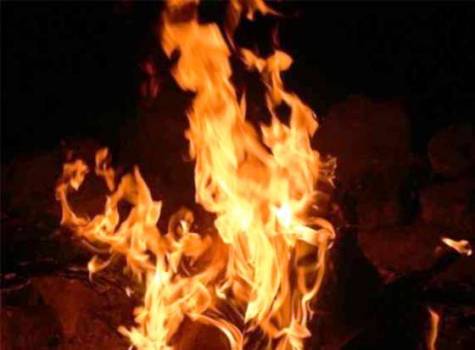 Nagpur Today.
Husband's doubtful nature proves costly for a married lady. The shocking crime occurred when the husband and the in-laws of a 30-year-old woman set her afire. The cause of the crime is suspected to be that of doubting the woman's character. The victim, who sustained deep burn injuries, has been admitted to Indira Gandhi Government Medical College and Hospital (Mayo Hospital) for treatment.
According to Lakadganj police, the incidence took place between 5 to 7 am on November 8, 2013. The Police added that Rajesh Mohanlal Joshi (35), used to live in a rented house of Govindrao Mahajan in Lalganj Gujri Square. He used to suspect the fidelity of his wife Sangeeta Joshi (30). In the early hours of Friday the Nov 8, 2013, Rajesh, brother-in-law Pawan Joshi and his mother Vimal Mohanlal Joshi poured kerosene on Sangeeta his wife and set her afire.
The neighbours rushed for help after hearing the screaming of Sangeeta. They rushed her to IGGMC. The treating doctors said that Sangeeta has sustained 98 per cent burns and was in a critical condition. The Lakadganj police after taking the statement of Sangeeta registered a case of attempt to murder on her husband and in-laws. The police have also arrested Rajesh Joshi and booked his mother Vimal and brother Pawan under Sections 307 and 34 of the IPC.