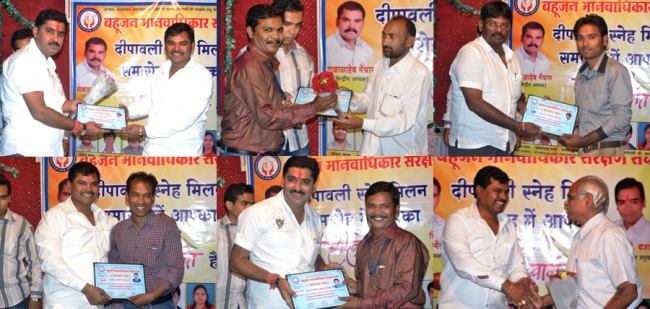 Nagpur News.
The Bahujan Manavidhikar Sarankshan Sangh (Human Rights Organisation) has honoured artists, social workers and journalists for their contribution in their respectively and serving the society in the best manner. In a function organized at Rajaram Sitaram Dixit Library, the Human Rights Organisation conferred Nagpur Today Group of Portal Newspaper, its Crime Reporter Ravikant Kamble, Cameraman of GTPL Mayur Pogle, IBN-Lokmat's Snehadeep Bhongade with Mementos.
The Nagpur Today's Ravikant Kamble and IBN-Lokmat's Snehadeep Bhongade are in the field of journalism with spot reporting being the speciality. Both journalists, besides contributing in their professional field, have rendered valuable services in the social work front, too. Both Kamble and Bhongade played key role in exposing shortcomings in the police system, and forced the top officials to suspend 7 policemen so far. They have thanked the Bahujan Manavidhikar Sanrakshan Sangh for bestowing honours on them and vowed to continue their contribution in their field.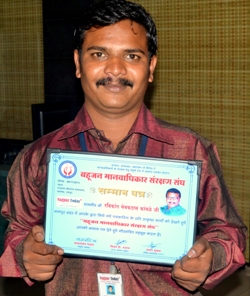 Similarly, the President of Bahujan Manavidhikar Sanrakshan Sangh Balasaheb Meshram honoured President of Yuva Kranti Manch, Khamla, Panju Totwani, Corporator of Ward No. 56 B Munna Yadav, Jaripatka's Soni Moni Jeweller Manoj Nichwani, retired District Sessions Judge Prakash Dhambre with Mementoes and bouquets. Balasaheb Meshram also apprised the youths about aspects of the human rights.
The function was presided over by the President of Madhya Pradesh Unit Vijay D Bajaj and North Nagpur Special Working President Prashant Shukla. Those who were present on the occasion include Maharashtra Working President Kumar Panchbhade, Vidarbha General Secretary Sohel Khan, Abhinay Chankhelkar, Mangesh Kelkar, Rajesh Shiohare, Arsh Sayyed, Neha Ghanshani, Omprakash Sharma, Bharti Meshram, Archana Patil, Puja Babaj and others.