How seriously does govt take safety of trains? A status check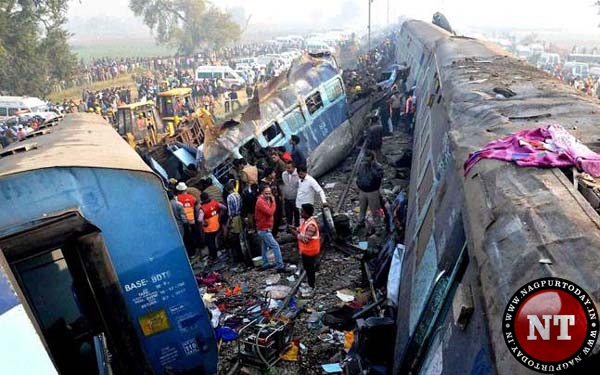 Kanpur: In the worst train accident in the last six years, more than 140 people died after the Patna-Indore Express derailed near Kanpur on Sunday.
As many as 14 coaches went off the track leaving behind a horrifying scene of death and pain. Some hours after the derailment, rescue personal called off operations to look for survivors and authorities say the death toll may rise.
The statement of Manoj Sinha, Minister of State for Railways, raised disturbing questions about the priority that the government accords to safety, given that the Indian Railways is the largest rail network under a single management recording about 23 million booking every day.
Manoj was quoted by the Hindustan Times as saying, "Somewhere along the line, routine safety drills have taken a backseat and the 1 lakh-odd vacancies in the safety category have remained. Rail fracture could have caused the accident."
According to the Safety Performance Book report for the 2014-15 uploaded on the Safety Information Management System, safety has improved from 1961 in terms of the number of train accidents per million train kilometres. In 1961, the safety index stood at 5.5 but has reduced to 0.11 in 2014-15.
The number of train accidents due to consequential train accidents increased from 117 during 2013-14 to 131 during 2014-15. (This excludes 4 consequential train accidents on the Konkan Railways). Out of the 131 accidents, 100 of them involved passenger trains. Consequential train accidents include those caused due to derailment, sabotage, fire or collision.
The total number of deaths during 2013-14 due to consequential train accidents was 152. This figure went up to 292 during 2014-15, indicating an increase of 31.5% compared to the previous year.
Manoj Sinha's statement regarding the vacancies in the railways, assumes significance when you look at the causes identified for various accidents. The bulk of accidents occur due to human failure, although these are not specified in the safety reports of the railways.
TABLE Also, in FY2014-15, out of the 131 accidents, 115 (87.78%) of the train accidents occurred due to human failure. Of the 115 incidents, 52 (36.7%) occurred due to failure of railway staff and 63 (48%) due to failure of persons who were not railway staff. As many as 3.8% of the accidents occurred due to failure of equipment, 4.6% due to sabotage and less than 1% for which the causes could not be established.
The human factor is also addressed by the High Level Safety Review Committee set up the Ministry of Railways in September 2011. The Committee submitted its report on February 17, 2012, with 106 recommendations covering various aspects of railway safety.
It recommendations included filling up of vacancies in critical safety categories and manpower planning issues, plugging the shortage of critical safety spares, external interferences such as the removal of encroachment and sabotage, upgradation of signalling, telecommunication and train protection system, upgradation of rolling stock, track, bridges, elimination of level crossings.
Out of the 106 recommendations, only 22 have been fully implemented, 46 are in the process of being implemented and the remaining 38 are under consideration by the Ministry of Railways.
Media reports suggest that staff are crucial to the functioning of the railways, especially in terms of safety.
Although an investigation will reveal the cause for the derailment of the Indore-Patna Express on Monday morning, preliminary reports suggest it was caused due to rail fracture.
The HT report cited above quoted an unnamed source as saying that rail tracks have deteriorated due to the business aims of the Indian Railways by running heavier trains.
More than 50% of train accidents occurred due to derailments in the last three years and 29% of them were due to track defects, a report by the Times of India said.
Rail fractures are cracks on rails that develop following the passage of a heavily-loaded trains "Such accidents can only happen when Ultra Sonic Fault Detection (USFD) checks of tracks are not routinely done. Operating high or semi-high speeds at the current juncture will be risky," the HT report said.
The TOI's analysis of accidents shows that accidents due to derailment has increased by 67% during 2015-16 (data up to November 15).
The Indian Railways employs around 2,00,000-odd trackmen to check 66,030km of tracks every day, but it also uses Ultra-Sonic Flaw Detection Machines to detect cracks. However, these machines have to be carried manually, and travel over high-density routes once every two months and are heavily dependent on trackmen to monitor them, a report by Scroll said.
Besides these, the Railways are also working on avoiding collision by development anti-collision devices, in line with the High Level Committee report. The Anti-Collision Device (ACD) developed by Konkan Railway Corporation Limited (KRCL), was piloted on a 1,736-km route of the Northeast Frontier Railway. Later, trials with a modified and improved ACD were carried out on sections of the Southern Railway.
"Complex operational and technical issues observed during both the trials are being attended to by KRCL in an improved version of ACD. Further, proliferation of ACD shall be possible only after these problems are resolved comprehensively by KRCL. Action has also been taken to develop Train Collision Avoidance System (TCAS) through multiple vendors, in order to prevent signal passing at danger as well as collisions," the safety report said.