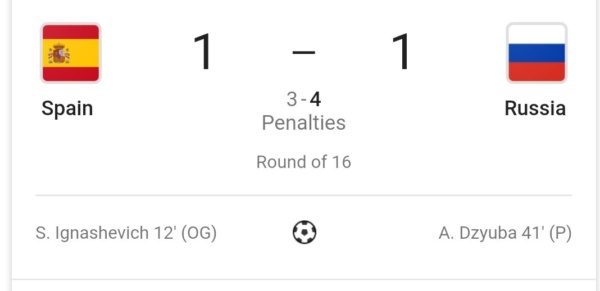 MOSCOW – Spain was sent crashing out of the World Cup by host Russia in spectacular fashion on Sunday night, falling 4-3 on penalty kicks after fighting out 120 minutes of a 1-1 draw.
Goalkeeper Igor Akinfeev made two stops in penalty kicks, diving the right way to save the third kick from Koke and then clinched it on an incredible stop with his outstretched left cleat to knock away Iago Aspas' final kick.
Russia will now face the winner of Croatia's second round showdown with Denmark in the quarterfinal, having pulled off a monumental shock against one of the tournament favorites.
For Spain, there will be nothing but recrimination after surrendering a first half lead. The Spaniards, winners of three straight international tournaments between 2008 and 2012, have now come up short in a trio of major events since.