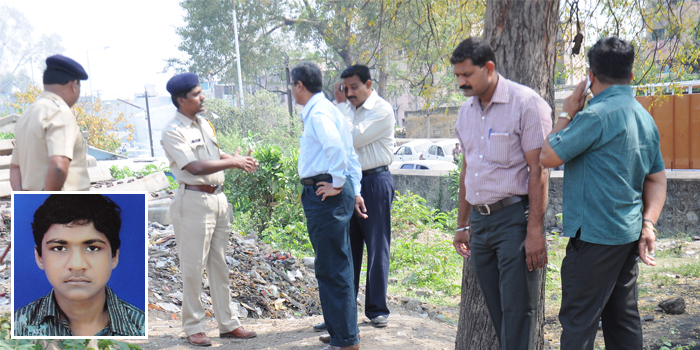 Nagpur News:
In a 'horrifying incident', body of a youth was found lying in a pool of blood and faced smashed completely with a boulder near Guard Line Railway Cabin on early Wednesday morning.
Residents discovered body of the youth under a Neem tree near Guard Line Central Railway Electric Pump Cabin. Police rushed to the spot after being informed.
The face of the body was completely smashed. But, father of the deceased recognized his son and thus the deceased was identified as Taj Mohammad. Taj (18), who was a resident Dobi Nagar, behind bada kuwa, Mominpura, worked as a mechanic in Rathi garage, Telephone Exchange Square. On Tuesday night, Taj came home from his work and got ready to go out at around 6 pm. But, when he did not come back till late night, his family members started searching for him. On Wednesday morning at around 7 am, his father Noor Hasan Ansari found a crowd of people near a Neem tree near Guard Line Railway Cabin. Noor Hasan reached there and discovered a body of a youth drenched in blood. He recognized the body of his son and informed his family members.
Residents informed the police about this brutal murder. Cops from tehsil Police station performed the panchnama and sent the body for post mortem at Indira Gandhi Government Medical College and Hospital.
Sources informed that Taj was the youngest son of Noor Ansari. He has two elder brothers Noor Mohammad and Sher Mohammad and two sisters Noorjahan and Noor Fatima. Noor Ansari worked as a tailor and Taj and his brothers helped him to run the house.
Police are suspecting a love affair as the main reason of this brutal act. But, no appropriate reason could be ascertained till filling of the report. Police said, the incident might have taken place at around 4 am. Blood was still oozing out of the body of Taj when police reached the spot. Police have registered an offence against unidentified youths in connection to the murder.
Railway police reach spot
On being informed about the brutal murder case, railway police reached the spot. Commandant Shareef, Police Inspector K D More, Bhawal, PSI Nalad, and other officials reached the spot to investigate the case. Police said, had Taj Mohammad been stealing the iron rods from railway line, his body would have found at railway track. But, his body was found under a Neem tree. Thus, reason for this heinous act is still a mystery.