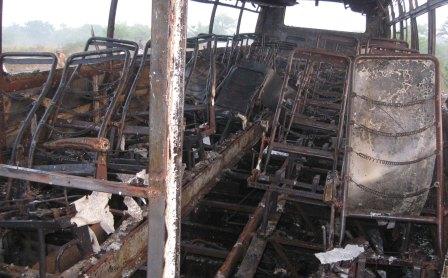 Nagpur News: Samudrapur Police have arrested the owner, the driver and the conductor of the bus that caught fire on Hinganghat, leading to the death of four members of a marriage party. The three arrested have been refused bail by the Samudrapur Court.
Samudrapur Police arrested owner Natthu Nandalwar, bus driver Sheikh Mohsin Sheikh Qasam and conductor Ramkrishna Nikure after registering a case under Section 304A (death due to negligence) of the Indian Penal Code. All three are Hinganghat residents.
The arrested were produce before Samudrapur Court, where Justice Sayyed refused to grant then bail and ordered them to be sent to the Zilla Karaghar (inmate cell) situated in Wardha, to be put under Judicial Custody.
The bus that caught fire near Jam on Friday was carrying around thirty members of a marriage party back to Hinganghat from Nagpur. While most of the passengers managed to jump out to safety when the bus was engulfed in flames, four people, including two children, were charred to death. Many were grievously injured.