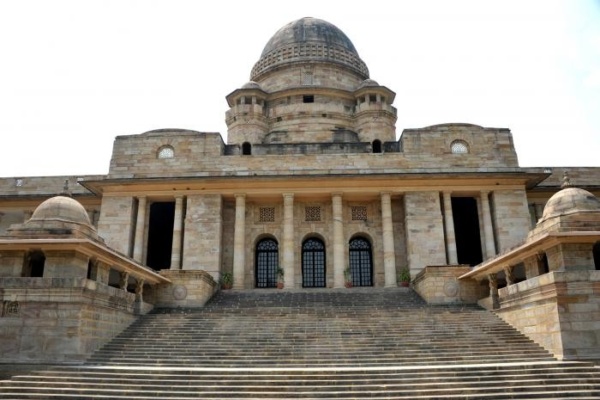 Nagpur: Hearing a petition against illegal allotment of land by Nagpur Improvement Trust (NIT) to political leaders and their establishments, the Nagpur bench of Bombay High Court on Wednesday reviewed the report submitted by One-Member Commission of erstwhile Justice Gilani but didn't disclose its findings. .
The bench order that the report be kept secure with the High Court Registrar. The HC bench comprising Justice Bhushan Dharmadhikari and Justice Murlidhar Giratkar issued show-cause notices to a number of officials and employees of the NIT and sought their replies as why action should not be taken against them in the case.
It may be recalled here that an English daily had published a series on illegal allotment of 85 plots by NIT to political leaders and their establishments. Social activist Anil Padpalliwar had then filed a petition in the High Court seeking action into the matter. The case was brought for hearing in front of the HC bench on Wednesday when the report prepared by Justice Gelani Commission after thorough investigation into the matter was submitted in a sealed envelope.
Though the court didn't disclose the findings of the report, it is believed that huge irregularities were committed by NIT officials while allotting the plots on political pressure.
During the hearing, it was informed that Justice Gelani didn't charge any remuneration for the probe. However, the HC sought suggestions from both the parties as what remuneration could be given to Justice Gelani for the investigation.
The HC issued show-cause notices to NIT executive officers MH Hedaoo, VR Trivedi, RK Pimple, AS Deshbhratar, SK Bapat, SB Zade, PM Bhandarkar, and executive engineers SK Gaur, SU Deo, DM Sonawane, and DR Gaur and sought their replies as why action could not be taken against them.
Notices were also issued to NIT employees including PS Raghute, BT Dongre, CF Dahikar, RN Samarth, RM Khapre, MB Ganar, Sudam Walondre, and JB Lonare.
As per information, around 25 officials, who have been serving on senior posts since last two decades, are also likely to be issued the notices.