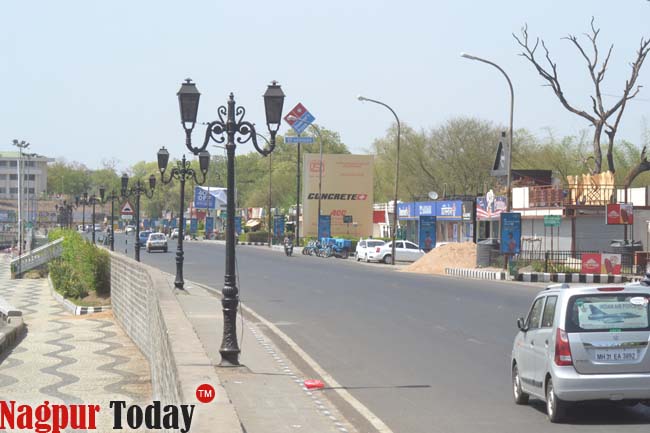 Nagpur News.
Nagpur bench of High Court has on Wednesday issued notices to Sell Ads, Nagpur Improvement Trust and Nagpur Municipal Corporation in regard to violation of agreement clause in erection of food kiosks at Futala Lake. Hearing the public interest litigation filed by Sanjay Agrawal of People Against Corruption, bench of Justice Bhushan Gavai and Justice A.A. Haque has directed the parties to file reply within 4 weeks.
In his petition Agrawal has pointed out series of irregularities in violation to the agreement between Sell Ads and NIT. Sell Ads was awarded the contract by Nagpur Improvement Trust for management and maintenance, improvement of infrastructure and development around Futala lake premises to Sell Ads for the period of 5 years, from February 17, 2010 to February 16, 2015.  The contract was forthrightly given on public private partnership (PPP) basis.
As per the plans, NIT entrusted the responsibility of maintaining cleanliness, securing natural ambience and taking care of permanent structure at Futala Lake with Sell Ads who would ensure its earning through hoardings display of advertisements, setting up food kiosks and its operation, parking collection from the designated parking way, fund generation through events organization, income from allowing fishing at the lake and few other resources.
The clause 4.14 of the agreement between NIT and Sell Ads read the latter is permitted to set up 20 food kiosks whereas clause 4.20 provide for giving out space to additional 10 mini hawkers.
Agrawal alleged in his petition that the clause for 20 food kiosks was brazenly violated and even the space reserved for parking area has also been utilized for construction of additional food kiosks. The petition said that Sell Ads has breached the terms and conditions by not only bringing up excess food kiosks but also erection of illegal boards and hoardings, installation of games without safety measures for children and contributing to uncleanliness and unhygienic conditions at the lake side.
The petition also stated that Sell Ads has blatantly overlooked the maintenance of the area and did not pay any heed to cleanliness of the area. It said the concerned officials of NIT had not taken any action since the establishment of aforesaid illegal food kiosks. This led Sell Ads to reap rich commercial benefits in breach of the agreement.
Apart from NIT Chairman Praveen Darade, the High Court notices have also been sent to NIT's Divisional Officer (west), Executive Engineer (west), NIT, Superintendent Engineer, NIT.
NMC Commissioner Shyam Wardhane has also been sent the court's notice in this regard.