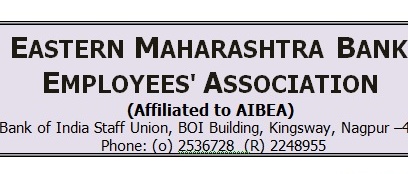 Nagpur News.
Bank employees and officers numbering over 500 held massive protest demonstrations before Bank of India Main Branch, Kingsway, Nagpur on Tuesday, the 22nd October, 2013 at 5.30 PM, demanding early and expeditious conclusion of the ongoing wage revision talks on 10th Bipartite Wage Settlement.
The demonstrations were held as per the call given by United Forum of Bank Unions comprising of all the nine unions in the Banking Industry. The demonstrations were held in all the major districts under the banner of UFBU, Vidrabha & Marathwada Chapter.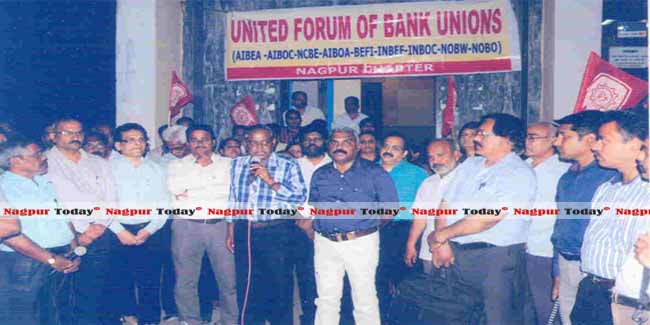 The Demonstrations were led by Com. Satyashil Rewatkar, Secretary, EMBEA, Com. Jaiwant Gurway, Deputy General Secretary, EMBEA and Com. Milind Wasnik, Organising Secretary, EMBEA.
Thereafter, the huge gathering was addressed by the leaders of UFBU. The meeting was conducted by Com. Ramkumar Gupta, President of EMBEA. Com. B N J Sharma, General Secretary, EMBEA explained in detail the developments so far and the casual approach of IBA in the last negotiations held on 11.10.2013 and called upon the members to be in preparedness for further actions to force the Bankers/IBA to hold meetings at regular intervals and settle the issue expeditiously. Com. Pradeep Yelne of NCBE, Com. V. V. Asai of BEFI, Com. P. S. Kohle of AIBOA, Com. Praksh Sawhney of NOBW also spoke on the occasion. Com. B K Talware, Convenor of UFBU Vidarbha & Marathwada Chapter in his concluding speech highlighted the approach of IBA in dividing the officers community and also threw light on 5 days banking and regulated working hours. Com. D S Mishra of AIBOC proposed a vote of thanks.
Leaders, Office Bearers and activists of all the nine constituents of UFBU, Suresh Bobhate, S. P. Tiwari, Vandana Majumdar, Sudhir Kudupley, P G Meshram, Ashok Atkare, Srinivas Kewadkar, Ramesh Deshpande, Gunwant Bhujade, J. B. Deshpande, Jagdeo Golait, Anant Kulkarni, Wazir Meshram, Shyam Gulgulwar, Manohar Agasti, Kamal Rangwani, Rajiv Pande, Ramesh Chaudhary, Ashok Shende, Pradip Sathe, Anand Sarodaya, J. Radhakrishnan, Bablu Kolte, Suresh Wasnik, Arun Raut, Vilas Shekokar, Vinayak Maske, Kiran Hege, Soni Khan, Anuradha Patil, Swati Rangari, Sandhya Deo, Seema Ramteke, Shanti Badra, Surabhi Sharma, Malti Hedao, Anuradha Srinivasan, Meera Iyer, Anuja Bele, Mugdha Kumbhare, Babita Bangale, Chandrakant Aniwal, Rakesh Bangale, Dinesh Khonde, Narendra Bhujade, Srikant Yete, Uday Patnaik, Raju Deshkar, Praful Bhivgade, Arvind Bansod, Bandu Wahane, Ramesh Narnaware, Pankaj Gajbhiye, Rakesh Mahule, Praveen Sahare, Vijay Jodh, Jabesh Kisku, Krishna Zoting, Sunil Nandanwar, Ajay Barnad, N Venkatachalam, Ravi Joshi, Chendyl Iyer, Narendra Rudani, Farooq Sheikh and others were prominently present in the demonstrations.