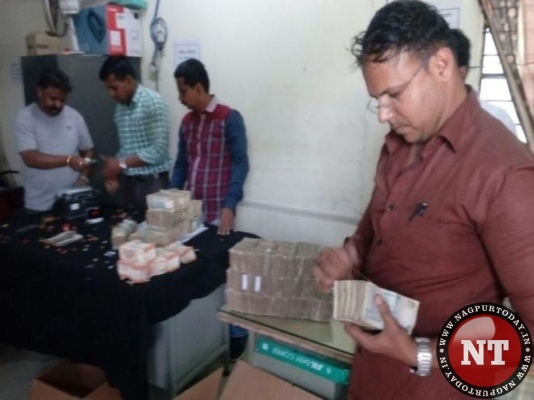 Judicial Magistrate First Class A O Jain on Friday extended the police custody remand (PCR) of seven accused, including three policemen attached to Nandanvan Police Station, in the sensational Rs 2.55 crore 'hawala' cash looting case till May 14.
Facing charges of criminal conspiracy, dacoity and destroying evidence, accused Ravi Ramesh Machewar(35), SachinNarayan Padgilwar(37),Gajanan Bholenath Mungane (27),Prakash Bablu Wasnik (22),all residents of Nandanvan slums, Dr Ambedkar Square; Assistant Police Inspector (API) Sunil Pandurang Sonawane (44), a resident of Room No. 16, First Floor, Police Gymkhana, Civil Lines; his writer and constable Vilas BhauraoWadekar(39), a resident of Deshraj Nagar, Surendra gadh, Katol Road and driver Sachin Shivkaran Bhajbhuje (35), a resident of Plot No. 95, Mahavishnu Nagar, Narsala Road, were produced before the court by the investigation officer.
Seeking extenstion of PCR of the accused for four more days, APP Rajni Meher, who represented State, and assisted by Adv Hitesh Khandwani, stated that the police wanted to recover Rs two lakh cash from the accused. Similarly, the police wanted to arrest one more person who was named by the accused during their interrogation for his involvement in the case, they added
Adv Masurke, who appeared for accused Ravi Machewar, Sachin Padgilwar, Gajanan Mungane, andPrakash Wasnik, strongly opposed to extending the PCR arguing that his clients had already cooperated during the investigation.
Appearing for accused API Sonawane,Adv Kailash Dodani also strongly opposed to extension of PCR of his client contending that there was absolutely no progress shown by the investigation officer about his involvement in the case. The defence lawyer stated that accused API Sonawane had no role in the case and the grounds cited by the prosecution pertained to accused Ravi Machewar, Sachin Padgilwar, Gajanan Mungane,and Prakash Wasnik from Rs two crore were recovered. Adv Sameer Sonawne, who appeared for accused Vilas Wadekar pointed out that even the 'panchnama' prepared in the matter nullifies entire case of prosecution as his client was not at all present when the vehicle containing cash was seized.
Adv Rajnikant Thanvi also appeared for accused Sachin Bhajbhuje and other other accused police personnel. After hearing all the sides,the JMFC court extended the PCR of all the accused till May 14.