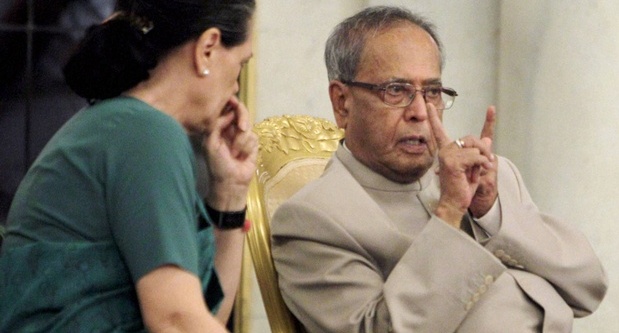 Nagpur News.
The last minute cancellation of President Pranab Mukherjee's visit to Nagpur has given birth to a lot of questions than the answers, and also triggered a speculative talk among political circles in general and Opposition in particular.
It may be recalled, the President Pranab Mukherjee was scheduled to visit the Orange City on November 16 to grace the Silver Jubilee Celebration of South Central Zone Cultural Centre (SCZCC) and also NMC's 150th Centennial Ceremony and RTMNU's 100th Convocation function. The SCZCC had booked Kasturchand Park for its colourful cultural programmes till November 22.
In the meanwhile, Congress President and UPA Chairperson Sonia Gandhi's visit to Nagpur was planned and she is scheduled to visit on November 21. Sonia Gandhi's programme in Nagpur comprised of launching Rajiv Gandhi Jeevandayi Yojana and a public meeting. The local and State Congress leaders demanded Kasturchand Park for Sonia Gandhi's public meeting. However, the Kasturchand Park was already booked by the SCZCC till November 22. This aspect put the Congress leaders and the District Administration in a fix.
However, the President Pranab Mukhejee came to the "rescue" of the Congress leaders and the District Administration by cancelling his scheduled visit to Nagpur on November 16 thus clearing the way for Sonia Gandhi's public meeting at Kasturchand Park.
Accordingly, the Guardian Minister Shivajirao Moghe, Health Minister Suresh Shetty, EGS Minister Nitin Raut, City Congress President Jaiprakash Gupta and other bigwigs met the Director of SCZCC Ravindra Singhal and "requested" him to vacate the kasturchand Park. In turn, the SCZCC Director assured the Congress leaders that the Kasturchand Park will be vacated by November 20 and, accordingly, changed the reservation date till November 20 instead of the original reservation of Kasturchand Park till November 22. However, the Congress leaders avoided the answer to a question whether the President cancelled his visit to Nagpur to facilitate Sonia Gandhi's programme. But they accepted the fact that they could get the Kasturchand Park due to cancellation of President Pranab Mukhejee's visit to Nagpur.
However, political circles are agog with speculative talk. The five crucial states are going for Assembly elections including the neighbouring Madhya Pradesh, Chhattisgarh, and Rajasthan. The Congress leaders, in a well-planned strategy, came out with Sonia Gandhi's visit to Nagpur, the centre of the nation, for launching Rajiv Gandhi Jeevandayi Yojana, and holding a public meeting at Kasturchand Park. A clear message could be sent to the poll-bound states, was the thought of the Congress leaders. And accordingly, they succeeded in their well-planned strategy, too.
Now, the question is being asked: Has the President Pranab Mukherjee cancelled his Nagpur visit to help Congress party and Sonia Gandhi?