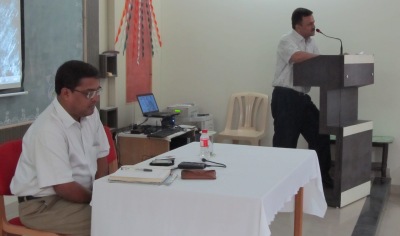 Kotler`s Junction, a marketing activity club of the MBA students of   Green Heaven Institute of Management and Research, organised a lecture on "Sales Strategies for FMCG Products" on 13th April, 2013. Mr. Nilanjan Maitra Business Head-Parle Agro Products Ltd. was the guest speaker. Mr. Nilanjan Maitra has over 20 yrs of experience in Sales and Marketing, Business Development, Channel Management and Retailing. He has worked in flagship companies like Reliance Industries Ltd.( Retail Division), Godlass Nerolac Paints, Pepsi, Dinshaws, Kevin Care, Pidilite etc.
An expert in designing sales and distribution strategies, Mr. Nilanjan Maitra spoke on the importance of depth of distribution (DOD) and Width of Distribution ( WOD) while designing sales strategies and also  focused on  ROI and Competitor analysis. He advised the students to do field work in order to understand the nuances of sales and distribution functions. He appreciated the activities of Kotle`s Junction and emphasized the need of such parallel activities to augment the learning process.
Prof. Makrand Joshi conducted the proceedings. Also present on occasion were Prof. Avinash Bhowate, Prof. Rajni Kumar. Mr Anil Sharma Secretary and Dr. Raaju Ganiesh Sunder lauded the efforts of the Faculty team.