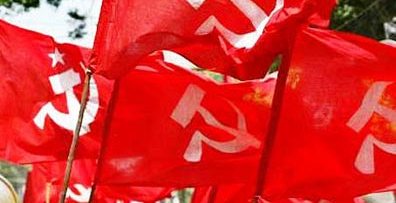 The activists of Communist Party of India (CPI) staged demonstrations in front of Collectorate to protest the police injustice in Pasco project in Odisha against the common people who are struggling for justice for past 6 years.  It is to be noted that the steel company of South Africa had been trying to acquire 4,000 acre agricultural land for the 'Pasco project'. People from the area have been protesting against the same for last 6 years.
People from all corners of life have participated in the protests. Acting on the all India call to support the affected tribal and farmers, Communist Party held demonstrations in front of Collectorate and demanded justice for the affected tribals and farmers. The party condemned the Odisha Government for supporting the Pasco project and neglecting common man.
It is to be mentioned that Environment Ministry has not give approval to the Pasco Project and many other formalities were also incomplete of the party. Still, Government continued to support the project and deployed police squads in villages to pressurize them to hand over the land for the project.
Prominently present during the demonstrations were District Secretary Jammu Anand, city secretary Ajay Shahu, senior leader Mohandas Naidu, P K Motmare, Mehfuz Agai, Shyam Wagh, Prem Jogi, Sanjay Raut, Geeta Mahajan, Sheela Mahanty, Pandurang Durge, Dnyandas Gajbhiye, Shersingh Nahar, Ramesh Jaisinghpure, P L Fulbade, and Khushal Chawre.